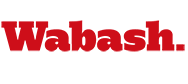 Little Giant Seniors Confident in Freshman Swimmers
by Howard W. Hewitt

February 5, 2007

As Wabash College swimmers prepare for the NCAC swim meet they do so on the leadership of only two seniors and strength of a talented freshman class.

Eleven Little Giant freshmen have recorded times this year which could allow them to score in Division III's toughest conference meet. Kenyon, which has won 27 straight national titles, annually dominates the meet or battles for the top spot with Denison.

The meet is being hosted by Wabash College this year at its permanent site at Canton, Ohio. Wabash public affairs and athletic department staffers will provide the administration for the nine-team affair.

For the athletes it's the culmination of a year's work. Coach Peter Casares makes little secret the entire season and training program is for this meet. His freshmen have performed beyond expectations, but it will be their first time facing down Kenyon.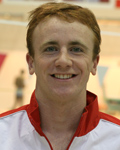 Senior swimmer Tony Caldwell downplays that lack of experience. "It certainly has been different knowing so many of the guys have never been in this type of conference situation before, but a majority of these guys have been to high school state meets and/or big club meets," he said. "I haven't really been worried too much about their ability to be prepared to swim against tough competition when everything is put on the line."
Adam Petro '10 has an individual shot at advancing to nationals but several other freshmen could surprise as well. Two Little Giant medley relay teams could be in position to make nationals at Houston, Texas. Caldwell and his classmate Kyle Weaver will be key contributors on the relays.
"I knew that Tony and I were going to have a big role to fill in order to teach the young guns how to effectively integrate swimming into their new and academically rigorous lifestyle," Weaver said. "To my surprise, not only have the freshmen looked up to Tony and me for advice, but I have also learned a great deal from these guys.
"The freshmen brought with them a new sense of heart and determination that I have never seen my past three years at Wabash College. I believe it has been their heart and determination that has led to our success this season."
Casares plans for this meet, but knows he is building something special at the same time. "We're looking to achieve some glory this weekend, but in the back of my mind I am making decisions about relays," he explained. "We'll have a lot of freshmen swimming in the morning (preliminaries) and seniors swimming at night. We want them to know what it feels like to swim on a relay for your team against the best in the country."
Caldwell said the freshmen will be up to the challenge largely because the College prepares them for hard work. "It has been a process seeing them develop as student-athletes," he explained. "They're coming from high school where they could really concentrate on their swimming and still do well in their classes. Now they have to really focus on their classes, labs, and homework combined with the adjustment to a new lifestyle and environment.
"I'm extremely proud of how they have handled things like pledgeship, homecoming activities, and getting involved on campus in a lot of ways. They've shown they understand Wabash is a place that challenges you in many ways and has great opportunities. I know we will have great success this weekend and I look for further improvement from these guys over the next 2-3 years."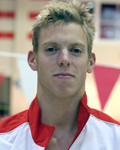 Weaver isn't afraid of his younger teammate's lack of experience and sticks to the old adage the future is now.
"I don't think that will stop our team one bit to have a successful meet and edge closer and closer to Denison and Kenyon. Once the guys step foot on deck, their adrenaline levels will be so high that their nerves should not negatively affect the way they swim. I believe our team will step up its game to a level this swim team has not seen in awhile.
"We will have a successful meet and watch out Houston, Texas, we are knocking on your doorstep."

In photos: On Swimming homepage: Freshman Adam Petro.