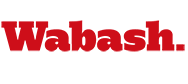 Jesse James '08 Plans to Listen as Senate President
by Sam King

February 5, 2007

Jesse James may prove to be the perfect choice for his current role of Wabash College student body president.

His duties include listening to students and voicing their opinions to Wabash administration. James has already shown he's a great listener. That's why he's at the Crawfordsville institution. Without ever having seen the campus, James signed his admissions form to enroll in the class of 2008. Wabash was the only school he applied to, taking a risk at a school that brings in between 250 and 280 freshmen per year and attempts to keep its entire student population around 850.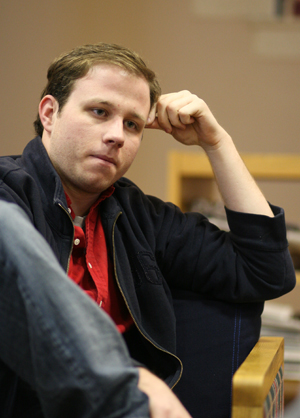 "It was a bold move, but it was a wise move," James said of his decision. "They say high school is the good four years of your life, but after my experiences here, I'd have to disagree and say college is probably the best time."
It was James' ability to listen to the opinions of others that led him to Crawfordsville. Alumni, high school teachers and guidance counselors told him Wabash was a school he should consider. He took that advice and ran with it. Three years later, the Sullivan native is still listening to the opinions of others and is now taking those opinions and using his position as student body president to get the messages across to Wabash administrators.
In the meantime, he's developed a friendship with new Wabash College President Patrick White and come to understand that NCAA Division III sports hold a special meaning, more so than mainstream college sports. It only took one Monon Bell game experience for James to become hooked on Little Giants' athletics and, like everyone else on campus, despise DePauw University.
Most recently, James was a keynote speaker for an event titled "Celebrating the dreams of Wabash men" during White's inauguration weekend. Since the turn of a new semester, he's been meeting with White regularly to discuss a new strategic plan for the college, as well as learn White's goals for the institution.
"Being the new president, I think part of my job will be assisting (White) representing the student body with a strategic plan and find out (White's) goals for the college and changes the trustees and board of directors have," James said.
Class time has become a mainstream way for James to gather student opinions. Since enrollment is about 860, James said he can converse with 20 percent of the students on campus during class time alone. Inovations in technology have also allowed the Wabash junior to gather useful information. He regularly uses e-mail as a mode of communication.
"They say we're the new age of the social networks," James said. "I'm not very big into them, but I'm glad we have them. I can't imagine doing all this without the technology we have on campus, it would just be horrible."
James' ability to listen comes as a direct correlation to conversation, his No. 1 goal for Wabash College's future. His dream is for Wabash College to not let conversations on campus die, both individually and within different areas of the college.
"It's just the fact that Wabash keeps getting people here who are willing to talk and who understands Wabash is a great college, but are also willing to say, 'There's some things we could do better,' and those are the kind of students we need," James said.
Regular meetings with White have helped both men come to a better understanding on the future of the school. James has been asked to candidly share the student views regarding the Wabash community with the newly-inaugurated president. One fascinating appeal James sees from White is the willingness to hear views from all angles.
"He would probably get offended if I went in there and told him what he wanted to hear because that would be shortchanging him and the college," James said.
James voiced his opinions before the administration long before becoming the voice of Wabash students. As a freshman, he let his opinions be heard, befriending administrators and then giving them input on things they, as well as the student body, were doing. It was nothing he did on purpose, but rather his nature to speak out on debatable topics.
It was that care for the college that James thinks led to him being voted as the president of the student body. Now he is the official representation of the students' voice. Doing some recreational reading, James was approached by past president Kevin Pazour (Pazour and James are the only two independent, or non-Greek organization, presidents - at least in recent years) as a congratulatory welcome to the new position.
Since then, James' schedule has been booked. If you manage to find him during a brief opening in his schedule, don't be afraid to strike up a conversation. He'll be willing to listen.

King is a reporter for the Crawfordsville Journal Review. This story appeared in the paper's Feb. 5 edition.