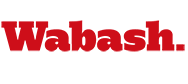 Peter Post Offers Expanded Gentleman's Rule Definition
by Howard W. Hewitt

January 18, 2007

Peter Post, grandson of etiquette maven Emily Post, finds Wabash College's Gentleman's Rule interesting. But he would suggest giving students a more specific definition of being a gentleman.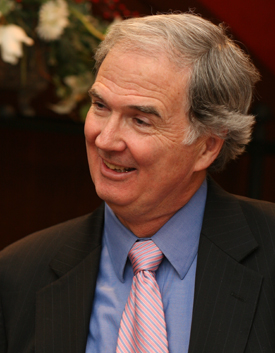 Post, director of the Emily Post Institute, spoke at a dinner for college sophomores then to a group of students, faculty, staff, and guests of about 100 in Salter Hall.
Hear Post explain his basic philosophy and see more photos by clicking here.
He called the Gentleman's Rule "interesting" but added he wasn't quite sure he understood it. After all, he questioned, what is a gentleman?
"A Gentleman should be considerate, respectful and honest in his interactions with others in his personal life as well as in his professional life," was the addendum the author and nationally-acclaimed expert offered up.
Post mixed his presentation with common-sense advice, wit, and more than a decade of family wisdom handed down from family matriarch, Emily Post.
He said proper etiquette really is quite simple. "Think before you act because we're likely not to make as many mistakes," he began. "Second, once you're done thinking make choices that will build relationships."
Post, who has written and contributed to several etiquette books bearing the family name, appears frequently on the national morning talk and news shows to discuss etiquette and manners.
He did offer some specific business advice appropriate for students that apply to anyone of any age. For work life: be on time, listen carefully, dress appropriately, avoid gossip and complaining, get your work done and be willing to take on other responsibilities and tasks.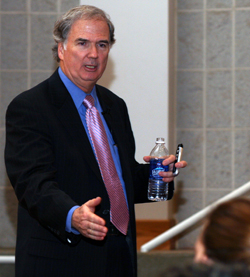 Post really had his audience's attention, roaming up and down Salter's aisles, when talking about e-mail etiquette and the use of cell phones and similar devices. In regards to electronic communication his advice was simple: control it, don't let it control you. He also suggested such devices simply be turned off when you're situations where a ringing phone might seem the least bit inappropriate.
Before his formal presentation, he met with approximately 30 Wabash sophomores and took a lot of questions. He spent time talking about opening doors and handling job offers.
Post, who also has his own marketing and public relations firm, gave the students advice on writing. "I worked for a newspaper and was a reporter for one year," he recalled. "Learn to write so that others can read it."
He called that experience one of the best and most influential of his life.
Sophomore Blaine Cooper-Surma attended both events and walked away with one of Post's etiquette books. "I really learned a lot especially since I'm majoring in business," he said. "This helps fill in some of the gray areas I wasn't sure about."
Post appeared as part of the LEAD (Linking Education and Alumni Development) Program and through Career Services.