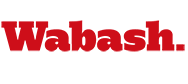 President White to Host Downtown Movie Night
by Karen Handley

January 9, 2007

The roaring comedy "Bringing Up Baby," starring Katherine Hepburn and Cary Grant, will be the featured movie at this week's Downtown Movie Night at the Vanity Theater. The film will be presented this Saturday, January 13 at 7 p.m. There is no charge for admission.

Wabash President Patrick E. White, who chose the movie, will introduce the movie and give a few remarks. He will also lead a discussion after the film.

In this screwball comedy, heiress Susan (Katherine Hepburn) is determined to catch a stuffy paleontologist (Cary Grant) and uses her pet leopard, Baby, to help get his attention. The elements of this farce include a yappy terrier who steals and buries an irreplaceable fossilized bone, a pompous big game hunter, a rich old aunt, a jealous fiancée, and a case of mistaken identity involving a second, and vicious, leopard.

The Vanity Theater is located at 122 S. Washington Street.