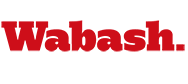 Wabash College Seniors Face Challenge of 'Comps'
by Howard W. Hewitt

January 5, 2007

There are many rites of passage in a lifetime. For a Wabash man, there is Chapel Sing, the Monon Bell, and for seniors it's "comps."

Seniors face mid-semester written comprehensive testing in their majors and then later in the semester "oral comps" when they'll be questioned by a professor from their major, one from their minor, and a professor outside the disciplines they've studied.

Many Wabash seniors returned to campus early from the holiday break to prepare for Monday and Tuesday's comps.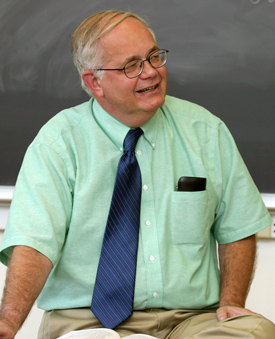 Professor of Religion William Placher '70 has taken the tests as a Wabash student and been giving them for several years. He points out students take individual courses and then put those courses together to make a major or a college education.
"Comps are one of the places we try to see if that has happened," Placher explained. "It's a test of the students, but it's also a test of us and the curriculum. Are we creating a context in which at least a fair number of students can put the pieces together into some larger whole?
"The rest of life, after all, rarely comes with specific assignments for which one can prepare in advance. Rather, life comes at us with problems and questions which might call for drawing on anything we've learned or thought about. Comps provide on initial test of how ready students are to face such challenges."
Allen Chatt '07, a political science and biology major, is one of many students studying for his comps. "For me comps are the synthesis of everything we've done in the last four years," he said. "It's really more stressful than normal Wabash work because of the breadth of the fields we're tested over.
"The more I study the more I realize how much I've forgotten or feel I don't know and have to find out about – it's like finals week, but there's the realization these exams are more important determining whether we graduate or not."
Therein, is a measure of extra stress – even if self-imposed.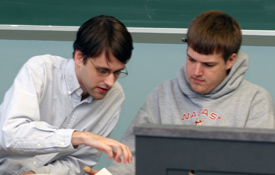 "Instead of being seen as yet another hurdle to jump before graduation," said Wabash Counselor Scott Cavins '84, "I would propose that comps be seen as an opportunity for each senior to show what, why, and how they know what they know. Perhaps the last part epitomizes the Wabash experience best – a place where seniors have 'learned how to learn" and be critical thinkers."
Cavins, like Placher, knows about comps first hand. "I found the experience to be challenging and intimidating," Cavins recalled. "I learned (particularly during orals) that I forgot it's not so important where one starts, it's where they end up."
Patrick Millikan '07, a pre-med student, has found preparing an interesting experience. "It has given me a chance to review the main points of what I have learned and has allowed me to see the commonalities in the material to which I have been exposed at Wabash. Specifically, it is very interesting for me as a religion major to discover the overarching similarities in what people believe and where they place their faith."
Even a football player who is used to pressure and stress feels a little extra anxiety prepping for comps. "In some ways the process has been strenuous, since none of us have ever taken a test quite like this," Millikan said. "It is very different from a normal midterm or final, since it asks us not only to recall information learned, but to make connections that range over a myriad of topics."
Cavins, in his college counselor role, has some advice for seniors working hard for comps.
Take regular breaks from studying (5-10 minutes) every hour.
Deep breathing – inhale slowly then exhale for a count of 5-10 seconds.
Stretch you body from head on down in addition to exercise such as running or weight lifting.
A massage, extended shower or bath.
"It is also important to eat well and get enough sleep," he said. "So an all-nighter needs to be for sleep rather than cramming for comps. Sometimes just talking with a fellow senior, professor, family, or even the college counselor can help take the edge off the stress with support to finish your journey at Wabash."
In photos: Top right, Professor Bill Placher. At right, Seniors Adam Hawkins and Allen Chatt make a classroom presentation.