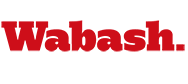 Matt Durbin Dies Unexpectedly at Home in Plymouth
December 11, 2006

Matt Durbin, 33, Plymouth, Ind., died unexpectedly in his home Friday. Durbin had followed brothers John and Mark, both class of 1990, to Wabash but then earned his degree from Ball State.

Durbin worked for U.S. Granules, Plymouth, as a lab technician for seven years testing aluminum. He had previously worked at a local Radio Shack.

Durbin was born at West Point, N.Y., and graduated from Yorktown High School at Yorktown, Ind., before attending Wabash. He graduated in 1998 from Ball State with a degree in biology.

He is survived by his wife Gina and their two sons, John and Hunter, along with daughter Alexandra. His parents, Dr. John Paul and Barbara Durbin, Yorktown, and Joan Durbin, Indianapolis, survive. Four brothers and their families also survive.

Friends are invited to celebrate the life of Matthew Durbin with his family 308 p.m., Dec. 12, at Johnson-Danielson Funeral Home in Plymouth. Memorial gifts in Matt's memory may be made to Plymouth's Public Library's Children's Reading Program.