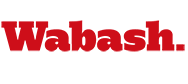 Wabash's 39th Annual Christmas Festival Wednesday Evening
December 1, 2006

Get directions to Wabash College Chapel

All members of the Montgomery County community are invited to attend Wabash College's 39th annual Christmas Festival of Music and Readings at 8 p.m. Wednesday, December 6, in the College Chapel. The festive program is an opportunity for college and community to come together in a traditional service of readings from the Old and New Testaments, along with a wide range of musical offerings.

The program, based on a traditional English service and initiated at Wabash by the late Eric Dean, features Advent and Christmas scriptures read by members of the Wabash faculty, staff, and student body. Christmas music will be sung by the congregation and performed by members of Wabash's musical ensembles.

This year's Christmas Festival will feature selections performed by the Wabash College Glee Club; a violin solo by Wabash senior Andrew McKone; recorder and harpsichord duet by Amanda Ingram and Diane Norton; the Wabash College Brass Ensemble; A Woodwind Trio with senior Erick Martin, flute, freshman Matthew Routh, clarinet, and sophomore Thomas Pizarek, bassoon; Wamidan World Music Ensemble; and a trumpet and organ duet by Robert Foote and Cheryl Everett. The audience will have the opportunity to join the performing ensembles in several familiar carols.

Readers include Gary Phillips, Marilyn Smith, Adrian Starnes, Michael Uhl, Kenneth Ngwa, Jill Rogers, Daniel Petrie, Mac Petty, P.T. Prosinski, and Jonathan Baer.

The Christmas Festival of Music and Readings is jointly sponsored by the Music and Religion Departments, and is open to the public without charge. There will be a reception following the Festival.