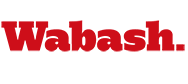 FIRE President Talks About Free Speech on Campuses
by Howard W. Hewitt

November 29, 2006

The cost of a free society and freedom of speech is that people will get offended. Society and its institutions, including colleges and universities, have a right to condemn such speech but no a legal write for action that could be punitive.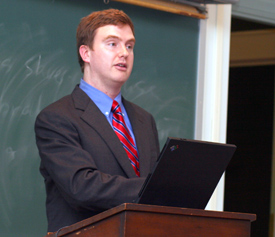 Greg Lukianoff, president of the Foundation for Individual Rights in Education (FIRE), talked about his organization's work on college campuses protecting free speech during a presentation Wednesday night.
He cited speech codes, sexual harassment codes, and social conscience codes as frequent problem areas. FIRE does not legally challenge colleges where violations of free speech may occur; instead it exposes the incidents through the press.
"As bad as it is to tell people what they can't say, it's much, much worse to tell them what they must believe," Lukianoff said. "It comes from the left, right and the center."
FIRE rated 328 colleges and universities for the 2005-2006 school year on free speech issues. The organization found 229 schools a 'red light' school, or one which had rules which were 'laughably unconstitutional.' Another 91 schools were rated yellow with rules that were 'just about laughably unconstitutional." Eight schools earned a green light for not having such guidelines.
Wabash College was not in this year's rating but had previously received a red light because of wording in the school's sexual harassment policy regarding derogatory remarks. He explained sexual harassment is a pattern of behavior governed by legal statute, but "it gets trivialized" by people who are easily offended.
"Every time a harassment code has been challenged by a student at a university, it gets overturned," he asserted. "Universities can condemn people who say foolish things but they shouldn't be kicking people out for it. They should be exposing it."
FIRE is a not-for-profit group formed in 1999 to monitor college campus freedom of speech.
"Offending someone isn't protected, part of being in a free society is you have to have a little toughness and be able to take a little bit," Tyler Gibson '08 said. Gibson is a member of The Commentary staff, the event's sponsor.
"I think we practice freedom of speech in the classroom a lot," Gibson said. "We get in a classroom discussion and I may be offended but also I'm guaranteed I may offend somebody else and their views.
"There is always the threat someone could try to limit that, 'don't say this, don't say that.' Then it gets tricky."