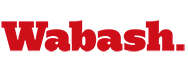 Economist Friedman Cited Wabash Lectures in Famous Text
by Howard W. Hewitt

November 16, 2006

Wabash College economics professors hailed the work of Milton Friedman as one of the nation's greatest economists. Friedman also had a strong tie to Wabash College.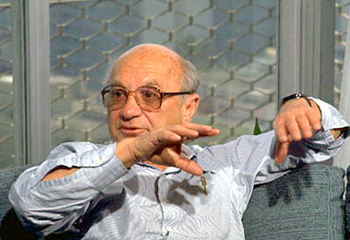 Friedman, who won the Nobel Prize in economics in 1976, was an advisor to three presidents, influenced most of today's leading economists, and authored 32 books. He died Thursday in his San Francisco home at the age of 94.
He drew inspiration from one of his most famous works, Capitalism and Freedom, from Wabash College. He wrote in the preface, "This book is a long-delayed project of a series of lectures that I gave in June, 1956, at a conference at Wabash College directed by John Van Sickle and Benjamin Rogge and sponsored by the Volker Foundation."
Professor of Economics Frank Howland lauded Friedman as brilliant and a passionate advocate for freedom. "Capitalism and Freedom, based on lectures that he delivered at Wabash, contained a whole series of policy prescriptions which remain at the forefront of the economic policy debate to this day, including education vouchers, abolishing farm price supports, and the negative income tax."

"Friedman's place in the pantheon of great economists is assured," Professor of Economics Bert Barreto said. "He was an important voice in the great debate about capitalism and markets in the second half of the 20th Century.
Barreto uses Friedman's Free to Choose video on education in his History of Economics course. Another of Friedman's widely used texts is A Monetary History of the United States, authored with Anna Schwartz. Associate Professor of Economics Joyce Burnette is using a portion of that book in her current class on the Great Depression.

"Some of the government policies we debate today, such as public school choice and the voucher system, were originally advocated by Friedman," Burnette said.
Besides his numerous books, Friedman once wrote a column for Newsweek and had a television show on PBS. Presidents Nixon, Ford and Reagan adopted some of his thoughts on monetarism. Friedman's work in consumption analysis, monetary history, and stabilization policy won him the Nobel Prize in economics.

Friedman argued individual freedoms should rule economic policy. Even though he influenced many of the most recent chairmen of the Federal Reserve, he was often its most out-spoken critic.
Howland pointed out Friedman distinguished himself in almost every way possible: empirical and historial studies, theory, and policy advocacy. "I once attended a seminar presented by Friedman," Howland recalled. "He was warm, wise, and witty; eager to present his ideas and to listen to what others had to say."
In photos: From top: Friedman, Barreto, Burnette, Howland.