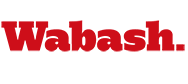 Late Safety Keeps Monon Bell at Wabash College
by Howard W, Hewitt

November 11, 2006

Monon Bell battles have been won in almost every imaginable way. Wabash College's Little Giants may have added another with a late safety to defeat DePauw, 23-20, and keep the Bell on the Crawfordsville campus.

It was the 75th battle for the Bell in the 113th meeting between the two schools. A new attendance record was set again this year with 11,669 packing Little Giant Staidum. Wabash, which finished 8-2, now leads the overall series 53-51-9. DePauw has a slight edge 35-34-6 edge since the 300-pound bell became the winner's trophy.

View more pictures of the Bell battle here: Photo Album 1, Photo Album 2 But the Monon Bell game is more than just a game. Click here for views of all the color and excitement. Click here for a look at all the pre-game tailgating action.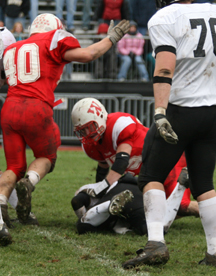 "It never gets old; winning never gets old, especially winning the bell," senior running back Billy King said. "Our senior class hadn't been able to win it at home; we lost it our sophomore year so it's definitely thrilling.
"The atmosphere was phenomenal; our fans were great as always. What can you say about Huff, our wide receiving corps, our line - it was just awesome. It's been a great season, but it's over. It's kind of tough one to swallow but there is no better way going out than winning the bell."
The 6-4 Tigers, trailing 14-0 at halftime, rallied with two scores to open the second half to tie the game. But Wabash responded on the next series. With Dustin Huff throwing the ball on 13 of 16 plays, the Little Giants moved the ball from their own 14 to score on Huff's 10-yard strike to mike Russell, 21-14, headed to the third quarter.
It looked like Wabash might again seize control of the game when Andy Deig picked off Spud Dick's pass on DePauw's next play but the Tiger defense held. Each team had two possessions that made little progress before Frank Knez made a game-clinching play.
DePauw took over after a Wabash punt on its own 8-yard line. Dick dropped back to pass and was chased by the Wabash line. Knez finally got to him for the two-point safety with just under five minutes to play. The Portage, Indiana, senior credited something the coaches saw from the press box.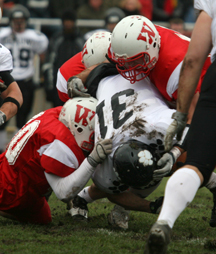 "I was being blocked pretty good all day," Knez said. "Coach (Neal) Neathery talked to me about some technique and I got to him. Heck, I didn't even know he still had the ball so I was pretty happy."
DePauw had one more chance with just 2:37 remaining and the ball. But after an incompletion, Dick was intercepted by Adi Pynenberg and Wabash took over on the Tiger 21-yard line. Huff threw an interception to end that possession.
Dick then hit two long passes, a 42- and 31-yarder to Bryan Mulligan before connection from four yards out with David Araiza for the final score. The Tiger kick hit the uprights and fell wide.
Huff closed out his first full year at the Little Giant helm with another 300-plus yard day. He threw for 304 yards on 30-of-49 attempts and two touchdowns.
"Obviously we wanted to go into the playoffs but this being our last game, this is a nice way to end the year - on huge victory and bring home the Bell."
The Wabash quarterback had to withstand considerable pressure on the pocket all day. Tiger lineman Dustin Hertel let DePauw with 14 tackles, had numerous pressures and two sacks.
"They have a good defense," Huff said. That number 98 (Hertel) is a heck of a player, He's one of the better players we've seen on defense and they got some pressure on me. They're good team too."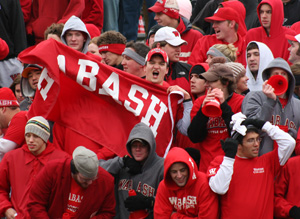 Junior receiver Mike Russell had another big day with nine catches for 90 yards, Shane Keffer and Ray Green had seven catches apiece.

Wabash didn't get much going on the ground. All 47 of the Little Giant rushing yards came in the second half.

The defensive effort was led by Deig and Pynenberg with 11 and 10 tackles, respectively. Bren Banach was credited with 7 stops and Josh Gangloff added six. Chad Peterman and matt Kraft had five tackles each.

The Bell remains in Crawfordsville for the second straight year.

In Photos: Upper right: Knez brings Spud Dick to the ground in the endzone for a safety. At center left: Tiger Jeremiah Marks gets stopped by the Wabash defense. At lower right: Wabash students keep it noisy in the endzone.




Results: Wabash 23, DePauw 20 Game Stats