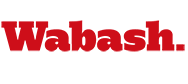 Monon Bell Stag Honors Jim Cumming W'61 and Max Hittle D'66
by Tom Runge

November 10, 2006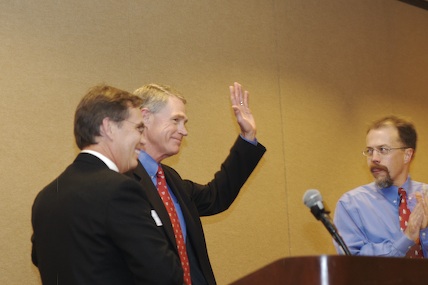 A great crowd, approaching 200, assembled Thursday evening for the traditional Monon Bell Stag in downtown Indianapolis. The event is a yearly roast sponsored by the Indianapolis Association of Wabash Men and DePauw's Indianapolis Alumni Association.
The event featured the annual presentation of the Spirit of the Monon Bell to noted doctor Jim Cumming W'61 and well-known Indianapolis attorney Max Hittle D'66.
Wabash president Pat White welcomed the group and reported his first Stag was even better than he had expected. Jason Lee D'02, former quarterback for the Tigers, served as their emcee while David Waldman '93, the current IAWM president, served in the same capacity for Wabash.
Wabash Professor JD Phillips took his shots at DePauw as this year's roaster and Mark Dinwiddie D'71 returned the "favor" for DePauw. Both did an outstanding job.
Many thanks go out to Jon Pactor W'71, Mark Dinwiddie D'71, David Pippen W'91, and Jason Lee D'02 and their committees for organizing what looked to be the best Stag in the last several years.
A great rivalry and great friendships all rolled into one.
Photo: Mark Dinwiddie D'71 congratulates Jim Cumming '61 on the Spirit of the Monon Bell Award as Wabash professor JD Phillips looks on.
For more photos, click here.