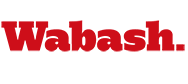 Little Giants Claim Share of NCAC Championship
by Howard W. Hewitt

November 4, 2006

Granville, Ohio – Wabash College claimed at least a share of the NCAC championship at Denison Saturday with a 41-14 win. But it was a historic victory in more ways than one.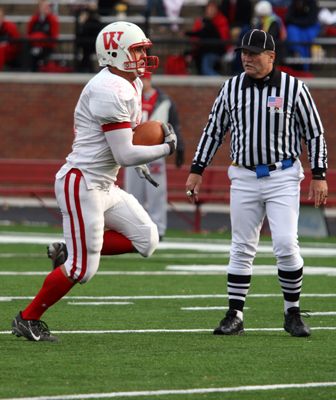 The Little Giants (7-2, 6-1 NCAC) became the first back-to-back champions of the NCAC since 2000. Wittenberg defeated Allegheny 39-21. Wittenberg will share the conference title and claim the automatic playoff berth if the Tigers defeat Hiram (0-9) next weekend.
But the win came on an historic marker for Wabash. The game was the 1,000th game in the history of Wabash College. The football program now stands at 573-368-59 in 120 seasons. Wabash is the sixth winningest program in the history of Division III football. (View photos from the game.)
"We could only control our game today," head coach Chris Creigton said. "We had no control over anything else, so we just challenged our guys to continue to improve, to play great today, and to finish off the conference season strong. I think they did that, and I think they had a lot of fun doing that."
Wabash won't be making its second straight trip to the playoffs this year but will have it's usual titantic struggle Saturday for the Monon Bell. It will be the 113th meeting between Wabash and DePauw. And much like Saturday's 1000th game, this year's battle will mark a milestone of being the 75th battle for the Bell.
Bachelor photographer Stephen Abbott '09 traveled with the Little Giants to Denison for the 1000th game. See his photos and hear Coach Creighton talk about Wabash's football history here.
Quarterback Dustin Huff had a huge day again for Wabash hitting on 25-30 passes for 382 yards and two touchdowns. He threw second-period scoring strikes. The first went to Mike Russell for a 17-yard score and then before half hit Bart Banach from 10 yards out for a 20-0 halftime Wabash lead.
"It's a great win," Huff said, "Winning back-to-back championships hasn't happened since 1991 and 1992. We're excited about that and we'll celebrate it. But we definitely have a huge game next week. I can't wait for that."
Banach's set his touchdown up with a spectacular 9-yard catch two plays prior.
The second half was more of the same as Wabash built the advantage to 34-0 before the Big Red would get on the board. Shane Keffer had a scoring run of two yards. Freshman Brock Graham added a one yard run late in the third quarter.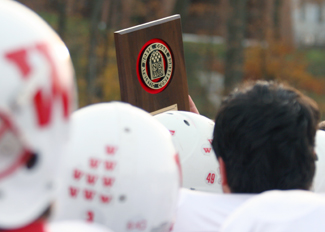 Matt Kraft picked off a Tom Simeone pass and took it in from nine yards out to close the Little Giant scoring.

Creighton used most of his travel roster in the latter part of the fourth quarter.

Denison (2-7, 2-4 NCAC) was able to pick up 21 first downs to Wabash's 22 but the remaining statistics were as lopsided as the final score. The Little Giants had 511 yards of total offense to Denison's 303. Wabash threw for 405 yards to the Big Red's 119.

Denison did outgain Wabash on the ground, 198-123, behind Fred Lee's 126 yards on 29 carries. The Little Giant depth was a big difference in the game. Seven Wabash players carried the ball and seven more caught passes.

The defense was paced by Bryan Engh's 15 tackles and an interception. Kraft added 12 more stops and the late pick for the score.

Photos - (Top left) Bryan Engh picks off the first of two interceptions for the Little Giants.
(Bottom right) Wabash players hoist the 2006 NCAC Football Championship trophy after the win over Denison.




Results: Wabash 41, Denison 14 Game Stats