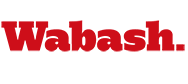 Wabash Inducts New Athletics Hall of Famers
by Jim Amidon

November 3, 2006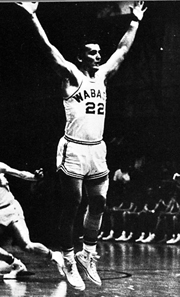 The National Association of Wabash Men inducted 10 new members into the Wabash Athletics Hall of Fame. The ceremony was held on the eve of the 113th Monon Bell Classic, Friday, November 10.
This year's inductees spanned five decades of excellence in athletics and support of the Wabash athletics program. In addition to the athletes, the NAWM Board of Directors enshrined long-time boosters Fran Hollett H'85 and Ginny Hays H'97, and posthumously inducted the late Bill Hays '37.
"The Hollett and Hays families exemplify what it means to be a fan of Little Giant athletics," said Jay Fisher, president of the National Association of Wabash Men. "We're very excited to be inducting Fran, Bill, and Ginny into the Athletics Hall of Fame.
Other inductees included:
The late Ben Fellerhoff '58, a two-time Most Valuable Player for the Wabash basketball team, who scored 1,123 career points and was the team's leading rebounder. Mr. Fellerhoff was represented at the Hall of Fame by his sister.
George Brattain '63, who walked on to Coach J. Owen Huntsman's track and cross country teams after serving as a manager in high school. Brattain would go on to become an All-American in track, and has spent the last 40 years as an official with governing bodies of the sports of track and cross country.
Terry Smith '68 was ineligible to play as a freshman, but wasted little time lighting up the nets as a star shooting guard for the Little Giant basketball team. Named Most Valuable Player three straight years, Smith scored 1,057 points in just 56 career games.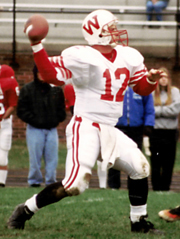 John Panozzo '89, now a doctor in Denver, had what many Wabash fans believe to be the finest single baseball season in school history. Not only was he a two-time MVP, four-year letterman, and captain, he set the school record by hitting .471 in his junior season.
Bill Kepler '93 proved that student-athletes at Wabash can excel in three sports. Kepler earned a total of 10 letters in football, wrestling, and golf, and was named All-Conference in wrestling and golf. He set the freshman record for most wins in a wrestling season, and was a national player of the week in football.
Chris Ings '96 shattered every passing and total offense record as a four-year starting quarterback for the Little Giant football team. He made the All-Conference team four years running and chalked up 7,637 passing yards and 1,971 rushing yards in his career.
Dan Emerson '98 is the only athlete in Wabash College history to serve as captain and earn MVP in four straight varsity seasons. An All-American wrestler, Emerson was an All-Academic Team member and graduated Phi Beta Kappa with a 3.95 grade point average.
Pictured: At top is Terry Smith. At bottom left is Chris Ings.