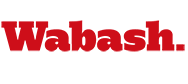 Family Day Concert to Feature a Variety of Music
by Karen Handley

October 26, 2006

Get directions to Wabash College Fine Arts Center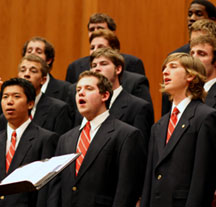 As part of this weekend's Family Day festivities, the Music Department will present a concert featuring several student ensembles, the Wabash Glee Club, world music ensemble, Wamidan, and the Jazz Improvisation Combo. The concert will take place at 8 p.m., Saturday, October 28, in Salter Hall in the Fine Arts Center.
The concert will open with two East African songs performed by Wabash's unique world music ensemble, Wamidan, led this year by Visiting Professor David Akombo. A suite of dances by Bach will be performed by a trio consisting of Erick Martin (flute), Matthew Routh (clarinet), and Thomas Pizarek (bassoon). Sophomore Kyle Prifrogle will play a piano solo by Rachmaninoff, and senior Adam Dybel, accompanied by Cheryl Everett, will follow with a virtuosic violin solo by Pablo de Sarasate. The concert will continue with school songs, a folk song, and a Broadway show stopper sung by the Wabash Glee Club, and will conclude with two Miles Davis selections performed by the Jazz Improvisation Combo of Desmond Risper (tenor sax), Haris Amin (guitar), Austin Somers (bass), and Jack Stewart (drums).
The concert is free and open to the public.