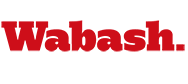 Stephens '07 Named Moot Court's Top Advocate
by Howard W. Hewitt

October 24, 2006

It's not one of Wabash College's oldest traditions but it might be one of the more interesting academic pursuits outside the traditional classroom. The annual Moot Court competition was held Tuesday in Salter Hall, sponsored by the Rhetoric Department and Indianapolis Association of Wabash Men.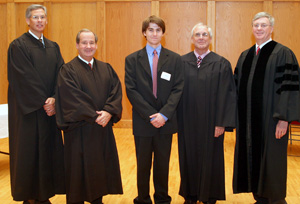 Senior Jim Stephens, a history major from Batesville, Ind., was named top advocate by the judges' panel concluding oral arguments on the constitutionality of opening session prayer in a state House of Representatives.
There are few undergraduate Moot Court programs in the country. Wabash's program was established in 1995 and annually brings together Wabash alums who make their living as lawyers. This year 17 graduates now practicing law acted as judges during the preliminary rounds. Twenty-nine Wabash students entered the competition.
The finalists were Nicholas Maraman '10, Daniel Carraway '07, 2004 winner Steven Rhodes '07, and Stephens.
"Considering you have no law school training - you've had the case for less than a month, you did a great job," the panel's chief justice Honorable Thomas Fisher said. Fisher is a member of the Indiana Tax Court.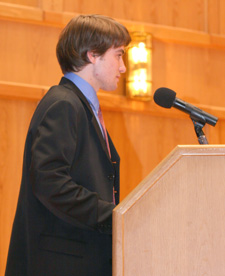 Shelby County Superior Court Judge Jack Tandy '79 noted there was no Moot Court when he attended Wabash and expressed doubts he could have stayed on topic as well as the four finalists did during their presentations. "These are tough issues," he said. "These are difficult for trained lawyers to understand."
The Honorable William Lawrence, Magistrate for the Southern District of Indiana, noted the students' passion in their arguments. "I was struck by the poise of all four students who were under fire," he praised. "I would have melted into the floor boards when I was 18. I was just very impressed."
It's Moot Court tradition to have a Wabash administrator or faculty member join the panel. New President Patrick White took a seat along side the judges this year. "This was tough and not only did you have grace under pressure that I expected to see, but you showed critical thinking and a real seriousness in your focus," the president told the four finalists.
At the conclusion of the panelists remarks, Fisher announced Stephens the winner.
"It means a lot to win this," Stephens said. "I've been dealing with Constitutional issues in Professor (Scott) Himsel's classes. It's been cool to have that experience in class and then see what it takes to make an oral argument. That's something you really don't get an idea of just reading the court cases and legal briefs."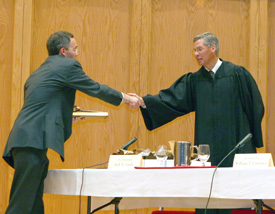 Each year the judges panel is encouraged to challenge the students arguments during final presentation.
"I wasn't expecting to get as many questions which made me a little nervous," Stephens admitted. "Usually I can respond to questions but being able to answer questions and still weave other stuff in was a challenge. Even though you can have organization going into it, it's pretty difficult to know what questions they're going to ask."
Students participating in this year's Moot Court were: Ian Bisbee, Rob Bloss, Jeremy Burton, Udayan Chattopadhyay, Keith Clayton, Sean Clerget, Joe Cooper, Jon Edwards, Spencer Elliott, Tom Elliott, Grant Gussman, Danny Heslep, Mike Hotz, Alex Ingram, Jesse James, Nick Leon, Greg Longo, Patrick McAlister, Josh Paul, Mat Plachta, Scott Pond, Gabe Smith, Brandon Stewart, Stephen Thompson, and Matt Vest.
Wabash lawyers who acted as judges: Pfenne Cantrell '92, John Cochran '68, Steve Creason '97, Tom Hastings '80, Bill Harrington '85, Scott Himsel '85, Tom Fisher '91, Brad Johnson '71, Mike LoPrete '02, Jon Pactor '71, Adam Packer '00, Mark Stuaan '78, Jonathan Warner '03, Nick White '02, Tom Wilson '78, Monty Woolsey '81, Bob Wright '87.
Wabash professors who judged included: Jon Baer, Stephen Dyson, Glen Helman, Himsel, Frank Howland, Todd McDorman, Yvonne Pitts, and Vic Powell.
In Photos: Top right, Stephens (center) with Judges Tandy, Lawrence, Fischer and President White. At center left, Stephens presents his argument to the court. Lower right, Scott Himsel presents Judge Tandy '79 a gavel for his participation.