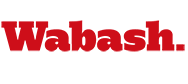 Monon Bell: HDNet Exclusive
by Patrick McAlister '10

October 18, 2006

"Make sure you take a shower and shave," Wabash Public Affairs Director Jim Amidon warns potential attendees of the upcoming Monon Bell game, "because high definition cameras pick up everything, and sound, too!"
The titanic clash between Wabash College and DePauw University has been covered in Sports Illustrated twice and on ESPN 2. This year, in a joint venture with billionaire Mark Cuban and DePauw University, the game will be broadcast on Cuban's network, devoted solely to television programs in high definition, HDNet.
"There are only two ways to see this year's Monon Bell Classic," said Amidon. "You either buy a ticket and show up on November 11 or find a telecast party location that receives HDNet. Any one or any sports bar that has DirecTV's high definition package will have HDNet as part of the package."
Click here to order tickets to this year's Monon Bell Game.
The 113th Monon Bell game isn't the first time HDNet has covered this historic rivalry. Initially, as an attempt to expand its sports coverage, HDNet first broadcast the game in 2003.
"It was a one-shot deal and we knew it at the time," Amidon said. "But we hoped HDNet would be interested in televising the Monon Bell Game in future years."
Because the network had only been in existence for a little over two years in 2003, finding places with high definition technology was difficult. "We struggled to find sports bars around the country to host our telecast parties," Amidon said.
That's not been the case this year. The Wabash Alumni and Parent Relations Office has partnered with DePauw to set up 49 sites across the nation for telecast parties. Click here to look for telecast party locations near you.
"I imagine there are few, if any, colleges that have national high definition broadcasts of their signature sporting events," Amidon said.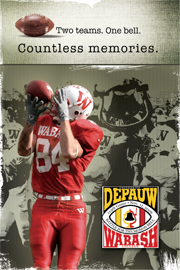 The quality of the programming, from a technological and professional perspective will be excellent for those watching the game on HDTV. The visual display will be excellent. "In fact, the video technology is so good," Amidon said, "folks watching will be able to see the eyelashes of the players in their helmets."
He says that although HDNet is no ESPN, Bell watchers will be treated to an excellent telecast with crisp audio, big time production and excellent graphics. "And as we have done for many years, I'll work with my DePauw colleague Ken Owen to produce a commemorative DVD, which we'll have on sale in the Bookstore before the holidays."
At one time, Wabash and DePauw shouldered the entire cost for generating and broadcasting the Bell Game through a national satellite telecast. However, this year's programming is cost effective for both collegiate institutions.
"Whereas in past years, we've had to pay 100 percent of production costs," Amidon said, "this year HDNet will assume most of the financial costs."
This new partnership with HDNet has exponentially expanded the usual excitement of the Monon Bell Classic. "It's a great opportunity to show off our college, our campus, our student-athletes, and, ultimately, the best rivalry in all of college sports," Amidon said.