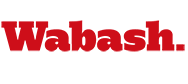 Indy's Partners In Housing Appreciate Effort
by Roger Neal '05

October 18, 2006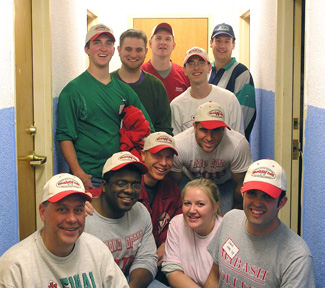 We arrived at the Blue Triangle, a Partners in Housing property, that provides affordable housing to low income adults, at approximately 1 p.m. on Sunday, October 15.
We found the 5th floor corridors in desperate need of a new coat of paint. After taping off the door frames of residents' doors and putting drop cloths down, with brushes and rollers in hand, we all got to work on painting. Several of us, including myself, misjudged the amount of elbow grease it would take to paint the area given to us! Fortunately four hours later we had almost painted the entire area. I think all of us who worked at Partners in Housing can say we left the Blue Triangle a much brighter place to be for its 5th floor residents.
Our volunteers were Jeff Dickison '85, Greg Estel '85, Roger Neal, '04, Brandon Roop '06, Sean Baylor '04, Jimmy Owens '06, Hugh Vandivier '91, Jacob Pactor '04, Gabe Smith '07, Gene King '78, Tamarco White '06, Keenan Blanchford '98, and four students from Lawrence North High School.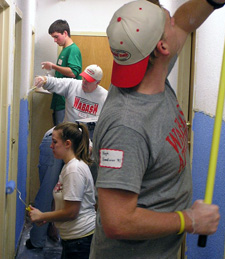 Thanks much go to Lee Ann Harper, Director of Development & Communication at Partners in Housing, for helping arrange this project.
Thank you!
Hello All:
Thank you so much for your hard work at the Blue Triangle yesterday afternoon. No doubt it felt as if you were there for a couple of days as I'm sure your muscles are screaming at you now!

Thank you for taking the time out of your schedules to make such a difference to a group of people who are frequently shunned by society. It can mean stepping out of your comfort zone and that takes courage and a very caring heart. By your actions, time, and energy, you made our residents feel valued and worthy…for many of them, that is more humanity than they have received in a long time.

As you can see from the photos, the results are tremendous. Everyone who came through the halls yesterday commented to me how great it looked—they were all very impressed and very appreciative.

If you would like to get Partners' newsletter (twice a year) to stay up-to-date on our activities, please reply with your mailing address. Thanks again for your tremendous hard work and please look at our website for more information.

All the best…
Lee Ann Harper
Director of Development & Communications
Partners In Housing Development Corporation