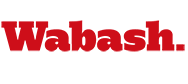 Houston Alums Tackle First Wabash Day Project
by Greg Birk '77

October 16, 2006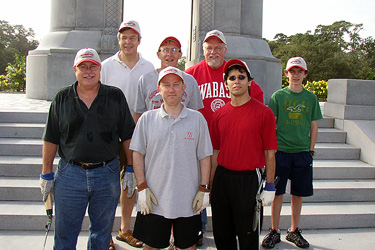 We had a great initial WABASH Day in Houston. The project with the Hermann Park Conservancy turned out to be a great project for our alumni group. The location of Hermann Park is centrally located for all alums in the area, and the statue of Sam Houston is a well-known landmark easily located by everyone ... no need for me to send mapquest directions to everyone!
The extent of the work was perfect for our crew. The area around the base of the statue they wanted us to clean up was a real mess when we started - grown over and full of dead growth of flowering bushes that had finished blooming for the year. We all felt a real sense of pride 4 hours later marveling at what we had been able to accomplish and how much nicer the area looked because of our efforts.
The work lent itself to working together and being able to converse while working. I think everyone had a great time. If we all weren't so dang busy and overcommitted we could have hung out talking afterwards for hours. Everyone left talking about when we could get together next.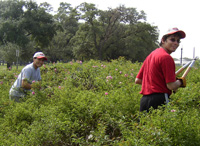 Of special note is that Tony Goodwyn and Michael Quach arrived for the work day not knowing that the other was going to be there. The two TKE brothers also did not know that they were both living in Houston!
It was a fun reunion for the two of them, catching up with what they have been doing since leaving Wabash. They both seemed very happy to reconnect after all most 10 years without seeing each other.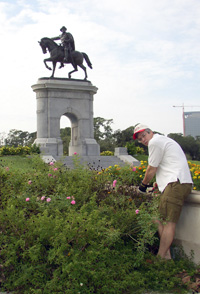 I saw the Montgomery County pictures with all the sweatshirts and winter coats and talk of the morning chill. In Houston we were working in shorts and t-shirts, and left for home very sweaty, dirty, and even a little bloody from some of thorny bushes in the work area. Blood makes the grass grow greener, greener!! Go Wabash!!
Here's the list of participants: Larry Knauf '62, Gary Parks '73, Greg Birk '77, Joe Higgs '79, Jim Cooper '81, Michael Quach '97, Tony Goodwyn '00, Ben Cooper '15 (8th grader son of Jim Cooper '81).
In Photos: Front row: Gary Parks '73, Jim Cooper '81, Tony Goodwyn' 00. Back Row: Joe Higgs '79 Greg Birk '77, Larry Knauf '62, Ben Cooper '15. In center photo: TKE brothers Goodwyn and Quach. At bottom right: Joe Higgs, being supervised by Sam Houston!