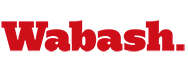 Olberding Named Honorary Alumnus
by Jim Amidon

October 7, 2006

The father of a 1999 Wabash graduate was named an honorary alumnus of the College at Saturday's Homecoming Alumni Chapel. Jim Olberding, father of Ethan '99, chose to join his son's class as an honorary member of the Class of 1999.

Jay Fisher '66, president of the NAWM Board of Directors, presided over the Chapel, and read the following citation that made Olberding an alumnus.

Jim Olberding H'99 — Honorary Alumnus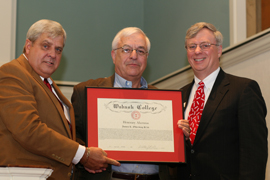 Jim Olberding, from the moment we met you we knew you were so much more than the parent of a talented Wabash man. Surely your love of Wabash began in the fall of 1995 when Ethan enrolled, but your relationship with Wabash seems only to have grown stronger over the years. It is your work recruiting future Wabash men that merits this award, however. In fact, some of us think you ought to be on Dean Klein's payroll!
Your work on this College's behalf over the last ten years has been exemplary. You have recruited men from your home state of Iowa, but also from Nebraska and Kansas. You represent Wabash at about a dozen college fairs each year and there's no telling how many phone calls you make to follow up with recruits and their families.
Your real employer, Mass Mutual, has allowed you to fold your Wabash travel into your work schedule; never once have you asked Wabash to reimburse you for any of your expenses. To say that you identify prospective students is underselling your work; you find ideal Wabash men. Last spring Wabash graduated four of your recruits, two of whom were inducted in Phi Beta Kappa, one was Sphinx Club President, one was a fraternity president, and all four studied abroad as juniors!
If it's possible, the quality of your recruits might well improve, since you went out of your way to serve as a counselor at Iowa's Boy's State last summer as a way of identifying outstanding young men. In addition to all of your recruitment work, you model for all Wabash men a commitment to your new alma mater as a contributing member of numerous parents' panels and as a member of Wabash's leadership giving club, the 1832 Society. Jim Olberding, for all that you have done for Wabash — as parent, recruiter, donor, and volunteer — the National Association of Wabash Men is proud to call you one of its own as an honorary member of the Class of 1999. We now heap upon you the ultimate praise for a Wabash alumnus: Some Little Giant!