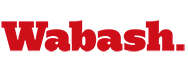 McNeely, Starrett Named Alumni Admissions Fellows
by Jim Amidon

October 7, 2006

A long-time Shelbyville attorney and a high school teacher were honored at the 2006 Homecoming Alumni Chapel. J. Lee McNeely '62 and Andrew J. Starrett '98 were named Alumni Admissions Fellows for their work in recruiting students for the Wabash Admissions Office.

NAWM President William "Jay" Fisher '66 presided over the Alumni Chapel, and read the following citations:

J. Lee McNeely '62 — Alumni Admissions Fellow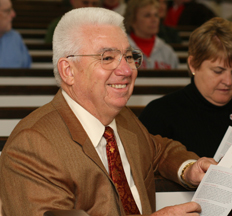 J. Lee McNeely, we're hard pressed to figure out exactly what you haven't done for Wabash College in your lifetime. You were a most active student, serving your fraternity, Kappa Sigma, writing for The Bachelor, acting in Scarlet Masque productions, and competing with the Debate Team. As an alumnus, you served a long stint on the Board of Directors of the National Association of Wabash Men, and guided that board as its president. You have been named "Man of the Year" by the Indianapolis Association of Wabash Men, and last year you were elected to the Wabash College Board of Trustees.
Today we honor you as an Alumni Admissions Fellow. Nobody in the Admissions Office knows for how long you've been an active alumni recruiter, nor do we know precisely how many Shelby County students have benefited from a Wabash education because of your careful, guiding hand. We do know that you annually host a dinner — at your own expense — that pairs prospective students and their families with Wabash alumni and staff. We do know that you have referred 11 young men to Wabash in the last few years, two who became Wabash men. We also know that, no matter how busy your schedule is, you make time to do the little things that convince prospective students that Wabash is the right decision for them, whether that's bringing a student to campus, making a phone call, or writing a letter. Today we thank you, J. Lee McNeely, for "spreading the fame of her honored name," and we honor you as an Alumni Admissions Fellow.
Andrew J. Starrett '98 — Alumni Admissions Fellow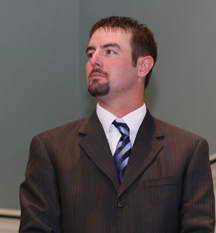 Andrew Starrett, we knew when you left Wabash having majored in psychology and bound for a teaching career that you would make a difference in the lives of young people. Your College is proud of the work you do as a teacher of students with disabilities and as a coach at Hamilton Heights High School; you serve as an active role model in the lives of your students.
What we didn't know, however, was that you'd continue to make a difference at your alma mater, too. Hamilton Heights graduates have come to Wabash in the past — perhaps one per year — and they have been successful. Since you've gotten involved, Wabash now has a pipeline to bright, engaged, and talented young men. The Admissions Office says you have a "keen eye for talent" and that you keep Wabash in the minds of prospective students through your daily interactions with them — in the hallways, other teachers' classroom, and practice fields. Your approach to student recruitment has produced exemplary results.
In the fall of 2005, Wabash welcomed five of your recruits; over the last three years, nine Hamilton Heights students have enrolled at Wabash, eight of whom you referred. What makes your efforts most remarkable is that you teach only students with disabilities. Somehow, though, you continue to identify your school's finest men and send them our way. Andrew Starrett, for so diligently working to identify and encourage young men to come to Wabash, the National Association of Wabash Men is proud to name you an Alumni Admissions Fellow.