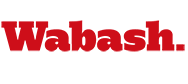 Betas Sell Wristbands to Benefit Relay for Life
October 6, 2006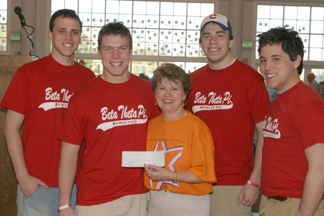 The Brothers of Beta Theta Pi are bringing back the "Wabash Always" wristbands again this year. Just as in the past, all proceeds will be donated to the American Cancer Society at the Relay For Life event, held in the Wabash Fieldhouse on March 23-24, 2007.
Relay For Life and the American Cancer Society work to eliminate cancer, fund research, increase education and awareness, while supporting and celebrating Survivorship. One out of two men and one out of three women will be diagnosed with cancer over the course of their lives.
"The American Cancer Society is especially important to me since three of my family members are currently battling the disease," said organizer Ryan Pritchard. "I have seen the impact cancer can have on someone's life, and the pain it can cause (having lost another family member to the disease)."
Wristband sales will be kicking off this Saturday at Wabash's Homecoming game vs. Allegheny at 2:00 p.m. Wristbands ($3) will also be available at the Bookstore, the Beta House, or through Ryan Pritchard. All proceeds will be given directly to the Montgomery County chapter of the American Cancer Society at this spring's Relay for Life.
"I have seen how support from friends, family, and the community can inspire someone to fight through the tough times to survive and make the most out of life," said Pritchard. "By working with the members of the Wabash and Crawfordsville communities, I feel it is possible to make a difference in the lives of cancer victims and give them the support encouragement they need."
Pritchard and his fraternity brothers presented a check for $1500 at the Relay for Life in 2005 (picture above).