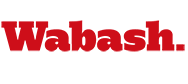 Monon Bell Ticket Sales Underway
by Brent Harris

September 29, 2006

Tickets for the 113th Monon Bell Classic between Wabash College and DePauw University are now on sale at the Wabash Bookstore.

Tickets are priced at $15 for the November 11th meeting between the two schools at Byron P. Hollett Little Giant Stadium. Kickoff is scheduled for 1 p.m.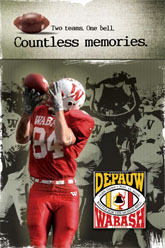 Wabash "W" pass holders can also receive their single complimentary ticket at this time. Contact the bookstore at 765-361-6406 or stop by between the regular business hours of 9 a.m. to 4 p.m. to receive a "W" pass ticket. "W" pass holders have already received a letter explaining the ticket procedure. Pass holders have until October 13 to get their Bell ticket.
Tickets for the general public are now available. Orders can be placed online from the Wabash College Bookstore web site. An $8 postage and handling fee will be charged for all online VISA and MasterCard orders. Orders will be mailed via UPS to arrive before the game on November 11. Online tickets can also be held for will-call pickup the day of the game at no extra cost.
Tickets can also be purchased in person during regular weekday bookstore business hours (9 a.m. to 4 p.m.) and Saturday's of home football games. Questions regarding online orders can be made by calling the bookstore at 765-361-6406.
Wabash students, faculty, and staff may also pick up their tickets from the bookstore beginning Wednesday. Each Wabash student receives one complimentary ticket and may purchase any additional tickets beginning Wednesday morning. Faculty and staff receive one complimentary ticket in addition to a complimentary ticket for a spouse or significant other. Complimentary tickets are available until Wednesday, November 8.
Tickets are sold on a first-come, first-served basis until the event is officially sold out. There is no exit and re-entry for the game. Tickets purchased from the Wabash Bookstore are for seating on the Wabash side of the field only. Tickets for the DePauw stands will be handled by DePauw University.