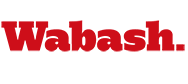 Legends return for V-12 Reunion
by Steve Charles

September 23, 2006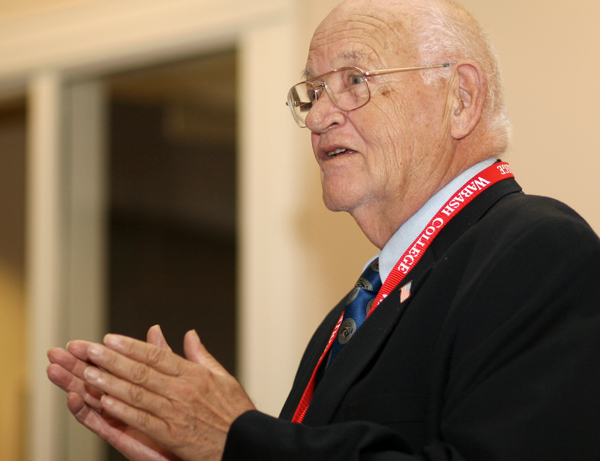 There were legends in the house when alumni from the College's World War II years gathered in Detchon Hall Friday night. Stories of Wabash legends like Professors Carscallen, Brigance, Charles, and Pete Vaughn were told by the men who had been their students when President Frank Sparks opened the College to the Navy's V-12 program. (Click here to read more about the V-12 program at Wabash.)
Many of the men spent only a year at Wabash before shipping out to Europe or the Pacific, but their fond memories of the College and a remarkable organizational effort by class agent and V-12 member Galan "Dutch" Friese '48 brought them back together for conversation, laughter, and reminiscing. (Click here for photo album.)

Bill Cargo '46 called math professor George Carscallen the best teacher he had in the several colleges he attended. Cargo fondly recalled his teacher's quirks, including his habit of coasting up the College drive in his car to save gas and his criticism of students' wasting of paper.

"I turned in an assignment once that took up a sheet of paper, and 'Carscy' said, 'I could have done those calculation on a postage stamp!' I've been very economical with my calculations ever since!"
Cargo also remembered football coach Pete Vaughn's reply to a newspaper reporter following the Little Giants' 0-0 tie with a heavily favored Illinois team. Vaughn, a coaching legend at Wabash and known for his toughness, said "I think our men played tougher than I thought they could."
"And there were tears in his eyes," Cargo recalled.
Cargo's classmate Dave Atchley '46 remembered his celestial navigation class with Professor Verne Robinson, particularly the evening they set up scopes in the football stadium to study the stars.
"I was amazed at how many other faculty members were there that night," Atchley recalls. "And they all seemed to know something about astronomy or the constellations."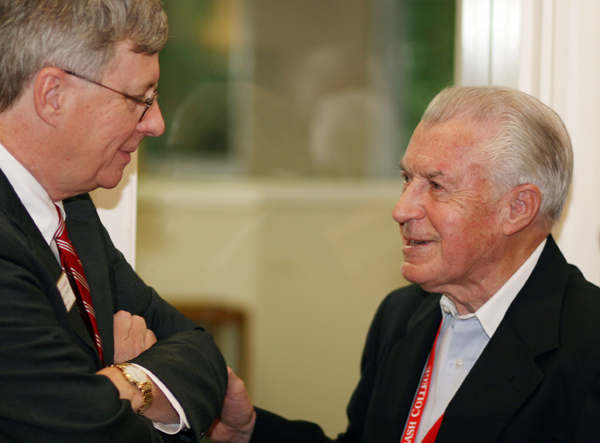 Classics professor Jack Charles taught Naval Warfare to V-12 students. "We learned a lot about Phoenician battle tactics," Cargo laughed. "I never knew a better teacher than Jack Charles," Atchley added.
Gus Manoff '48 and Bob Branson '48 spent a year together at Wabash, but the two had known each other in high school. They become roommates at Wabash, along with Bob Keyes '48, and the friendship between the three has endured more than six decades.
It was a time when College could literally save your life. Chuck Gudbranson '46 recalled that he'd originally planned to enlist and enter the war with five friends rather than join the V-12 program to et further training.
"All five of those men never returned from battle," Gudbranson said.
Former Wabash President Andy Ford used to say that the mission of Wabash College was "to save civilization." As new Wabash President Pat White noted at Friday night's V-12 reunion dinner, these are the Wabash men who did it.
"Frank Sparks, through the V-12 program, saved this College, and you in those dark and harrowing days, saved civilization," White said. "May all of us who have the honor of teaching and learning at Wabash College respond to your legacy with such courage, vision, fortitude, and heart."
Photos: Above, Bill Cargo '46 remembers his math professor, George Carscallen. Below, President Pat White learns about the College's V-12 days from Bob Branson '48.