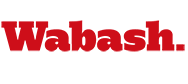 Theater Department to Present The Elephant Man
by Karen Handley

September 21, 2006

Get directions to Wabash College Fine Arts Center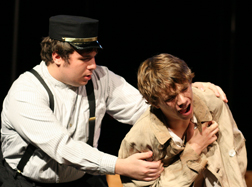 The Wabash College Theater Department will present its first theater production of the season, The Elephant Man by Bernard Pomerance, which will run from October 4-7 in Ball Theater in the Fine Arts Center. The performances are scheduled for 8 p.m. each evening.
Click here to see photographs from Sunday's dress rehearsal.
The Wabash production is being co-directed by theater professor Dwight Watson and senior theater major Brett Gann.
The Elephant Man is the story of Joseph Merrick, a remarkably sensitive, artistic, and intelligent man whose disfigurement is exploited by Victorian society. Merrick is befriended by an ambitious and brilliant young surgeon, Frederick Treves, who looks after him in his last few years—finding him a home in a London hospital where Merrick's unusual presence is shrewdly used for fund-raising. Merrick's story is one of humanity and isolation, and telling his story helps us define our own.
The cast list includes Wabash students: Braden Pemberton as Cellist; Matt Goodrich as Frederick Treves; Patrick McAlister as F. C. Carr Gomm; Jake Sauer as Ross; Spencer Elliott as John Merrick; Nicholas Kraynak as Sideshow Manager; Ronald King, Anthony Morton, and Jarryd Morton as Sideshow Act; Tyler Williams as Belgian Policeman; Travis McLaughlin as Conductor; Benjamin Harvill as London Policeman; Miguel Aguilar as Porter; Anthony Lewis as Bishop Walsham How; Dustin Foster as Snork; and Jamie Tynes as Lord John. Crawfordsville residents Nancy Rodenbeck will play Nurse Sandwich and Terry Swift will play Princess Alexandra.
Guest actress Jennifer Johansen, a veteran of the Indianapolis Repertory Theatre, plays Mrs. Kendal.
The scene and lighting designer is James Gross and Caroline Stine is the costume designer. Serving as stage manager is Tim Closson; Nick Kraynak is assistant director.
In 2006-2007, seating for Theater productions will be by general admission, though free tickets are required for Theater productions.
Contact the Fine Arts Center Box Office by email at boxoffice@wabash.edu; phone: 765-361-6411; or by mail at Fine Arts Center Box Office, Wabash College, P.O. Box 352, Crawfordsville, IN 47933-0352. Box Office hours are Monday through Friday, 8:30 a.m. to 12 noon and 1:30 to 4 p.m. The box office will open 90 minutes before curtain time for Theater events. Tickets not claimed at the Box Office 10 minutes prior to curtain will be released to the general public.