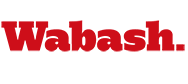 Second Wabash Day of Service Planned for Oct. 14-15
by Howard W. Hewitt

September 19, 2006

Last year marked the first-ever Wabash Day across the country. Wabash graduates are putting together plans for an even bigger and better day of service this fall.

Last year nearly 20 organizations assisted in making their community a better place to live. Last year 100s of Wabash men gave hundreds of hours to a variety of charitable causes.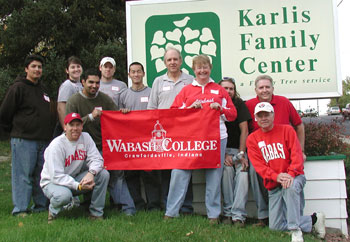 Below is a partial list of projects, but many more are in the works. Click here to see if plans are underway in your city and the name of the local Wabash Day leader.
The Bloomington and Monroe County, Indiana alumni are finalizing a project
with the Middle Way House in Bloomington. Dustin DeNeal '04 and Pat East '00 are Wabash Day Leaders. They can be contacted at ddeneal@indiana.edu or
patrick.east@hanapinmarketing.com for more information.
The Chicago alumni will be working on three different projects. Lance More, Marty Touhy, and Greg Jania will be working on the southwest suburbs. Charlie Bell will be leading efforts on the western suburbs and Mark Dewert will head up work on the northside.
The Colorado Association will be doing a volunteer project again at the Karlis Family Center in Lakewood. Their project will probably be a combination of indoor and outdoor "clean & fix" duties. The Karlis Family Center is a domestic violence resource center, which provides programs for families who have experienced high-conflict separation or divorce, domestic violence, or other abuse in the home. The center provides a safe, home-like environment and is open seven days a week. The center provides several different counseling programs, support groups, supervised parenting and visitation, and safe exchanges. The center was founded over a decade ago by former Denver Bronco kicker Rich Karlis. Most of its operations are dependent on volunteer contributions. Please contact John Ponazzo '85 pano471@aol.com for further information.
The Evansville alumni will be having another exciting project. They will be providing landscaping services and laying 20,000 square feet of sod at the memorial park dedicated to the 22 people who perished in the tornado of November 6, 2005 in Evansville. The memorial park is on the sight of the largest loss of life from the tornado, a mobile home park where 18 people died. More than 20 volunteers, mostly alums, have signed up to provide the necessary manpower. They are looking forward to another opportunity to be of service to our community in the name of Wabash. Thanks greatly to Thom Liffick ' 73, the Wabash Day leader in Evansville. Please contact Thom Liffick at tfliffick@aol.com for further information.
Grand Rapids is on its way to another very successful Wabash Day. They are expecting 20-25 participants to help Camp Blodgett, a non-profit camp for urban youth. They will work to improve the camp by painting cabins, fixing fences, and sprucing up buildings ... perhaps even doing a little building. Please contact Jay Fisher '66 at wjf@fisher-dickinson.com for further information.
The alumni of Houston, Texas, will work at Hermann Park, a large and historic city park located near Rice University, the Houston Museum district and the Houston Zoo. Like many old, urban parks it has seen better days. The focal point of the park is a statue of Sam Houston on his horse. The statue is surrounded by what was once a beautiful plantings area. The Conservancy would like the alumni to clean all the dead growth out of this planting area so that it might again return to its previous glory and serve as a landmark in which the city of Houston can take great pride. Greg Birk '77 is the Wabash Day Leader, being assisted by Joe Higgs '79. You can reach Greg at
greg.birk77@wabash.edu for more information.
The Minneapolis area alums will be providing services to People Serving People, Inc. (PSP), a homeless helter and service center. PSP provides temporary emergency shelter, full meal service, transitional housing, education and activities programming and works with 30-pluscollaborative agencies to provide support for homeless families of Hennepin County and the City of Minneapolis. The average age of a child at PSP is 7 years old. Over 60 percent of the residents of PSP on any given night are children. PSP can house up to 396 persons in its shelter and can house up to 44 persons (10 families) in its ten 2-bedroom transitional housing apartments. The extent of the projects will depend upon the number of volunteers of alumni and their families. Wabash Gentlemen are to meet at PSP, 614 S. 4th St., Minneapolis, MN, Saturday, October 14. The exact time to be determined. Persons interested in participating should contact Charlie Crowley ''70 at ucam@qwest.net or ; please phone him at 612-872-0554 or 612-823-1137.
The men of Mississippi will work to improve Domestic Abuse Shelter of Laurel, Mississippi, a United Way Agency. Alumni from various parts of the state will work on this project. They will repaint two rooms on October 14 and October 21. For more information, please contact Lee Cline '65 at bgcline@megagate.com.
The alumni of Muncie and Delaware County will be working to clear up a portion of the Cardinal Greenways Trail (similar to Indy's Monon Trail) during the afternoon of October 14. Jim Williams '88 is the Wabash Day Leader, and he can be reached at jwilliams@Defur.com for more information.
Washington, D.C. alumni will be working at Friendship House Association on Saturday, October 14. It is a non-profit, multi-service, community-based social and economic development agency founded in 1904. It is committed to educating individuals, families and groups to become self-sufficient. Its mission is to help people find alternatives to life-long poverty and to counteract the breakdown in family life. Through education and programs, Friendship House provides access to technology, goods and services to those in crisis and uses social institutions to better meet community needs. The alumni will clean up the outside of the property with landscaping work and do fix-up work inside. Please contact Jefferson Crew '05 for further information at jefferson.crew@gmail.com.
Indianapolis has a handful of projects so far for both Saturday and Sunday. Please contact Jon Pactor '71 for further information at pactorlaw@iquest.net. The projects so far are described below.
Indianapolis alumni will distribute food to approximately 250 needy recipients for Gleaners Food Bank on Saturday morning, October 14. They will have face-to-face interaction with the people to be helped. Kids over 13 will be welcome as helpers. The required activities include unloading the truck, setting up the food on tables, and helping people take their food to their vehicles. They want at least 20 volunteers who will need to arrive by 9 a.m. The work should conclude by noon. The venue will be at Trinity Episcopal Church, 33rd & Meridian Streets. Though it is at the church, this is non-sectarian endeavor. The event will take place rain or shine, so people should dress for the weather. Gleaners, was founded in 1980 to combat the growing problem of hunger in Indianapolis, has distributed more than 173 million pounds of food and critical grocery products over the years.
Indianapolis alumni will have the opportunity to gain training to become tutors for The School on Wheels on Saturday morning. School on Wheels provides free one-on-one tutoring and educational mentoring to homeless children at nine locations. Dedicated volunteer tutors spend one hour every week working with homeless children and celebrating their success. The training will run for about two hours starting at 9 a.m. at SOW's offices at 5420 North College Ave. After the training, trained tutors will be asked to find dates and times when they can go to homeless shelters and/or schools to work with kids on their homework after school.

Indianapolis alumni will also help Second Helpings for a few hours from 9:30 a.m. Saturday, October 14. Second Helpings rescues prepared and perishable food, re-prepares it into nutritious meals, and distributes them to more than 50 social services organizations that feed hungry people. They deliver 2900 meals a day. They also train disadvantaged adults for careers in the culinary field, helping to eliminate hunger at its source. Since 1998, Second Helpings has collected more than 6,000,000 pounds of food and provided more than 2,000,000 meals to recipient agencies. More than 200 adults have graduated from its training program. The alumni will wash the vans that they use to transport the foods. Second Helpings has all of the equipment. Having a lunch on the premises thereafter is being considered. This project is available to children and teens. The location is 1121 Southeastern Avenue, Indianapolis 46202, which is about a five-minute drive from southeast of downtown.
On Sunday, from 1 p.m. to about 4 p.m., alumni will work doing painting for Partners in Housing, a non-profit organization that owns and manages facilities to house the homeless and people with special needs, but it is much more than that. PIH provides social services with the goal of making the residents self-sufficient. Frank Hagaman '72 is its president. Alumni will be at a different location from last year. This year, the work will occur at 725 N. Pennsylvania Street, right next to the Tyndall Armory.
Also on Sunday, also from 1 p.m. to about 4 p.m., Indianapolis alumni will again work at the Villages. The site is near Decatur High School. The Villages is an incredible agency that assists abused children. Linda Adams, wife of Skip Adams '71, is its director of development.
Also Sunday, Indianapolis alumni will be at Joy's House. The times have not yet been determined. Joy's House has served hundreds of families with adult day services. They provide safety and community for aging adults and adults living with physical and/or mental challenges. This service also provides relief for adult caregivers. Joy's House serves their guests Monday through Friday. Alumni will provide fix-up work, including work in the gardens. Joy's House is located in Broad Ripple at 2028 E. Broad Ripple Avenue, Indianapolis 46220. Tim Oliver '91 is a board member of Joy's House.
The alumni of Lafayette, Indiana will work on a Habitat for Humanity project starting at 9 a .m., October 14. On the next day, they will be competing with DePauw alumni in a blood drive from 3 to 7 p.m. For more information, contact Andrew McGlothlen '05 at atmgr82@yahoo.com.
The alumni of South Bend and St. Joseph County will be working at the Families First Center, an organization dedicated to providing children in foster care (usually due to neglect or abuse) with a safe, supervised and home-like setting in which they can regularly meet with their parents. The
Center moved to 605 Portage Avenue, South Bend. The alumni and their families will be putting down a plastic barrier and laying rock or mulch in areas around the building; setting landscape timbers or bricks; weeding; power-washing the privacy fence and wheelchair ramp; and priming and
painting the front porch railing. Other projects may arise before Wabash Day. Peter Horvath '92 is the captain for this project, and you can contact him at (574) 631-5365 or at horvath.50@nd.edu to volunteer or to get more information.
St. Louis alumni will be gathering wild plant seeds at the Shaw Nature Reserve of the Missouri Botanical Garden in support of their Prairie Restoration Project on October 14, 2006. This is an activity that can be scaled to however many participants they have. For more information
contact Jim Thomas '73 at james.a.thomas-iii@boeing.com
The Knoxville, Tennessee alumni will be doing some outdoor cleanup work such as weed-eating, painting, etc. at a Boys and Girls Clubs facility in Blount County in the afternoon of October 14. For more information, contact Jerry Blossom '66 at ceblossom@chartertn.net.