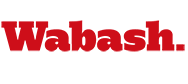 Establishing a literary tradition
by Steve Charles

September 18, 2006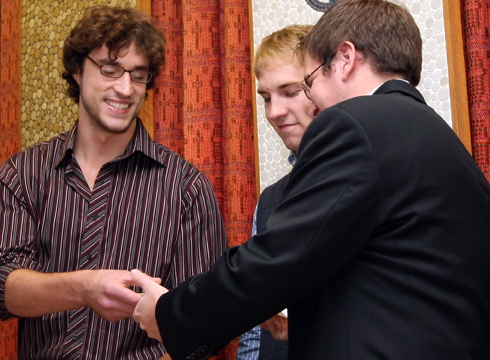 Wabash English majors established a new tradition on campus September 14 in Center Hall's Tuttle Chapel, founding the College's chapter of the international English honor society, Sigma Tau Delta, and inducting its first members.
The 10-member group hopes "to foster greater participation and interest in literary concerns on campus," said president Joe Cooper '07.
"Last year I was talking with Nick Pompeo '07 and Ryan Clark '07 about how we could become more involved on campus," Cooper said of the genesis of the campus's newest honor society. "As English majors, we were lacking a forum in which students and English department faculty could regularly share thoughts and ideas with one another outside of the classroom. Other departments were equipped with such an entity, and we were surprised that the English department had no such society. The logical thing to do was to fill the void."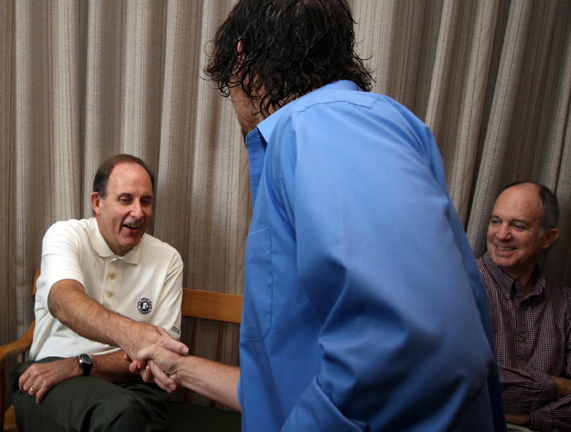 Cooper and his fellow English majors are looking beyond campus, as well. They have made arrangements to begin tutoring students at Crawfordsville schools this fall, and the group will travel to Butler University in October to listen to Pulitzer-Prize-winning poet Mary Oliver.
"We'll also attempt to promote interest on campus of the study of literature by attending and encouraging others to attend the new lecture series offered by members of the English faculty," Cooper added. The group is also considering a campus book club, in which faculty and students would read and study a particular book together.
"We were pleasantly surprised by this initiative, which was entirely student-driven," said Associate Professor and chair of the department Joy Castro said. "We applaud our seniors' desire to recognize accomplishment in our discipline and to encourage the reading and discussing of works of literature. They've begun a great new tradition here at Wabash."
The Wabash chapter of Sigma Tau Delta includes: Cooper; Andrew Dits, vice-president; Tom Elliott '08, treasurer; Aaron Splolarich '08, secretary; and Nick Pompeo '07, Nick Gregory '07, John Moore '08, Ryan Clark '07, Kiel Hansen '07, and Sterling Carter '07.
In photos: Andrew Dits '07 is welcomed into Sigma Tau Delta by chapter president Joe Cooper '07 and Nick Splolarich '07.
A secret handshake? Professor of English Tobey Herzog and Ryan Clark '07 try one out under the watchful eyes of Professor Tom Campbell.