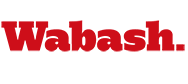 Berea Professor Discusses Enviromental 'Perfect Storm'
by Patrick McAlister '10

September 16, 2006

"It wouldn't be a lecture by me without a little doom and gloom."

With that ominous tone Dr. Richard K. Olson began to address an audience Friday night of Wabash students, professors, and concerned citizens. Olson presented a theory of what he calls a "perfect storm" – that is, a confluence of events that has put the United States and the world in a dire situation. With an increase in world population of resource consuming humans of 2.4 billion by 2050, a US national debt of $8 trillion, ever diminishing oil reserves, and the added 'inconvenient truth' of a global environmental crisis 'gloom and doom' scenarios only seem ever so more permissible.

Olson is attempting to do something about it. He is the director of Berea College's Sustainability and Environmental Studies (SENS) program and has engaged in a unique experiment in creating a 'sustainable campus'.

'Sustainability' as defined by SENS is society's capacity to meet its own needs without degrading existing ecological, social and economic systems. In other words, SENS attempts to find solutions to alleviate wastefulness.

With that mindset, Berea College created what it calls its Eco Village – a community where innovative conservation techniques are applied to everyday housing needs. The apartments of the village face south, so that the buildings can make the greatest use of natural sunlight. Each unit is equipped with structurally insulated panels, a solar panel that turns to follow the sun across the sky and their windows are thermo controlled. They even are equipped with toilets that require no water.

There are some less technologically advanced items used in these homes as well. Fans are used instead of air conditioning, as they can reduce the temperature of a room by as much as five degrees. Every resident is encouraged to grow a garden. Residents even rely on clotheslines to dry clothing.

SENS revolves around making its community function with more independence, and that was the inspiration that Wabash students and staff left with. "I came here to see how we could act locally, rather than nationally," Professor Richard Warner said. He added that he would like to see Wabash do an audit of its own sustainability.

Students for Sustainability, formerly known as Green Corps, was the Wabash organization that brought Dr. Olson to speak. Their hope is to transcend Wabash's diverse political views in a unified drive for sustainability.

"Part of the goal of Students for Sustainability was to avoid partisanship and unite under a common goal of conservation," Nathan Rutz, '09 said.

That type of action is exactly what Dr. Olson believes is needed to weather this 'perfect storm'.

"The problems are dire," Dr Olson said. "We need to solve them now."