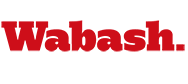 Class Agents Honored at Banquet
by Jim Amidon

September 16, 2006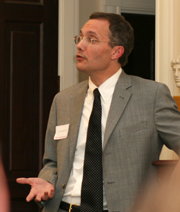 The Alumni and Parent Relations Office at Wabash rolled out the red carpet for more than 40 Class Agents returning for the 2006 Class Agents Forum.
Now in its 51st year, the Class Agent system was conceived by Myron Phillips '27 as a way of keeping alumni connected with their alma mater. Class Agents are selected as graduating seniors and serve as the liaison with their classmates throughout their alumni years.
Alumni Class Agents spanning six decades returned for Friday night's gala awards banquet, which was attended by the entire administration, spouses, and staff. Scott Himsel '85 (pictured right), an Indianapolis attorney who teaches constitutional law at Wabash, served as master of ceremonies.
Class Agents got a real treat Friday night when Wabash's new First Lady, Chris White (pictured below left), gave her first formal remarks since coming to Wabash in July. Asked to give her first impressions of Wabash, she said she was struck by the loyalty of Wabash's alumni and the kindness of the students.

Her husband and Wabash's 15th president, Pat White, then gave remarks about the fierceness of passion Wabash's alumni have for their alma mater. "Class Agents are not in the business of herding cats," he said, "but of herding lions — the ferocious men of Wabash.
"You act as the lens through which your more distant brothers see Wabash. You are a lens on one end and a voice on the other. You carry forth the best dreams of this College… Your work is absolutely vital."
He concluded his remarks by saying, "It is through you Class Agents that the College continues to be 'thou guide in riper years.'"
Himsel and President White then presented three awards for excellence among Class Agents.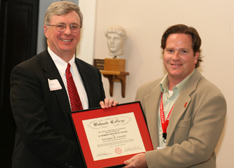 Chris Carpenter '96 (pictured left) was on hand to receive the R. Robert Mitchum Most Outstanding Young Class Agent Award. He, along with his fellow Class Agents Jon Graf and Klint Krouse, received the award that honors the memory of former alumni director Bob Mitchum. The agents for 1996 mailed out 13 letters in one year, and had the highest attendance at a 10-year reunion in recent history.
The award honors excellence in communication, student recruitment, class financial contributions, and Little Giant Spirit.
The winner of the Myron G. Phillips Most Outstanding Class Agent Award came as no surprise. Stephen Pavy '81 (pictured below) received the award, along with Phil Purcell, for their outstanding work in driving a very successful 25th reunion at the 2006 Big Bash Reunion Weekend.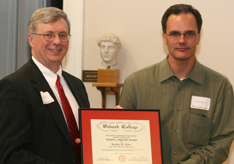 The award is named for Phillips, who served Wabash as student, professor, alumnus, assistant director of admissions, and director of alumni affairs. It is given annually to the Class Agent or Class Agents who perform all of their duties most admirably.
The evening concluded when Wabash paid tribute to Bob Johnson '54 (pictured on the home page), the winner of the Warren Wright Shearer Hall of Fame Award.
Established in 1991 to honor Shearer — student, teacher, dean, acting president, and class agent extraordinaire — the award recognizes exceptional performance by a Class Agent over a long period of time. Johnson not only spearheaded his 50th reunion at Wabash's first Big Bash Reunion Weekend, he has returned to each Big Bash weekend since.