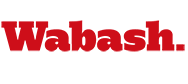 Third President's Descendants Make First Campus Visit
by Howard W. Hewitt

September 12, 2006

The great, great grandchildren of Wabash College's third president made their first-ever visit to Campus Tuesday, September 12.

Tom and Bonnie Tuttle are descendents of Dr. Joseph Farrand Tuttle. Tuttle was the third Wabash College president and served the longest tenure, 1862-1892, of any president to date.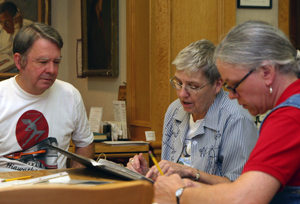 Tom, Madison, Wis., and Bonnie, Dodgeville, Wis., arrived on campus Monday and spent two days going through the materials in the Wabash College Archives.
Both Tuttles always knew their great-great grandfather was a Wabash College president, but didn't know a lot more than that. "She wanted to come out to find out more about great-great grandpa," Tom Tuttle said of his sister. "There were a number of things we found. There are a number of errors in some of the documentation we've got here."
Archivist Beth Swift had a table full of materials for the Tuttles upon their arrival. "President Tuttle collected in depth everything that interested him and it seems ... that everything interested him," Swift said of the 180 volumes and other materials the archives hold.
The visit allowed the descendants to fill in gaps in the family tree. "One of the surprising things we learned is that grandpa came here to school and lived with his grandmother and grandfather from 1897-1900," Bonnie Tuttle said.
Tom added that their grandfather had never mentioned attending Wabash.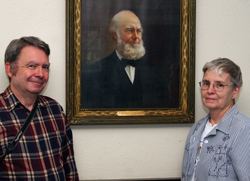 Dr. Joseph Tuttle had two sons but only one, Arthur, had children. Arthur's son Thomas had a son named Selwyn who was the Tuttle's father.
They hope to take the knowledge they've gained back to their extended family to build on the family legacy.
The Tuttle name is prominent on campus and in the community. There is a photo of President Tuttle near the front of the Chapel. The Tuttle Chapel on the second floor of Center Hall also features a bust of the third president. Crawfordsville's Middle School is named for Joseph Tuttle. And, the new Crawfordsville Library features Tuttle's name in limestone as a prominent author.
In photos: Above right: The Tuttles go through documents with Archivist Beth Swift. Lower left: The Tuttles with a portrait of President Tuttle that hangs in the Chapel. On home page: Tom and Bonnie Tuttle chatted briefly with the College's 15th President, Pat White.