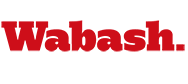 An Almost Perfect Day for Football...
by Tom Runge

September 10, 2006

A crowd estimated at well over 300 gathered for a pre-game tailgate at Franklin College as the 20th-ranked Wabash Little Giants started their 2006 campaign to the sound of cannon fire…too much cannon fire.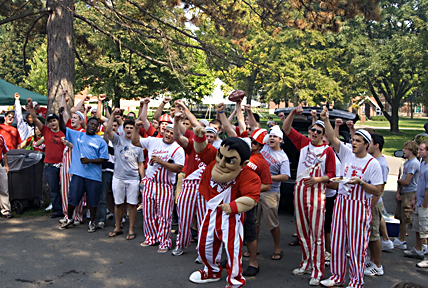 The crowd swelled even more at the game as the Wabash faithful filled the visitor's stands, the visitor's sidelines, a section of the home team stands, and behind one end zone.
The tailgate was fun indeed as more than 100 students joined the Board of Trustees, the College's senior leadership team, and many alumni and parents. The real highlight was the student group, led by the Sphinx Club, thanked the many fans gathered and led a rousing rendition of "Old Wabash".
Thanks go out to both IAWM board members who worked the IAWM-sponsored event – Hugh Vandivier '91 and David Waldman '93. We had three eight foot tables spilling over with food – thanks to all of you who brought something to share. And a very special thanks to the tailgate workers who saved the day-the Sphinx Club, Sherry and Gary Ross, Parent Kyle Finley (father of Chad - #19), and Carol Runge. Without them jumping in, we'd still be cooking and serving burgers and dogs.
For more coverage on the game, click here.
For more photos, click here. Please note-we hope to offer the new-and-improved photos albums used elsewhere on the web in the near future. Thanks for your patience and understanding.