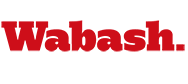 Ceramics by Leah Hardy Opens Art Season
August 30, 2006

Get directions to Wabash College Fine Arts Center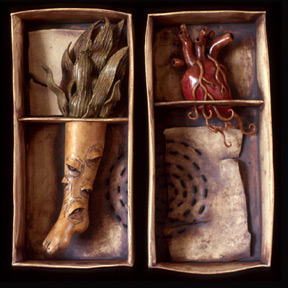 Sculptor Leah Hardy will be exhibiting a show "Ceramic Constructions" beginning Monday, September 11 in the Eric Dean Gallery in the Fine Arts Center at Wabash College. A reception will be held from 8-9:30 p.m. Monday, September 11, in the gallery. The public is encouraged to attend to meet the Wyoming-based artist. This inaugural show for the school year will be exhibited through October 11.
Hardy received a Masters of Fine Arts from Indiana University in 1990 in traditional ceramics. Her work in ceramics has included domestic vessels such as teapots and salt and pepper shakers which she has exhibited around the country. More recently her work has moved towards symbolic imagery and celebrates ritual and personal experience. Her work is influenced by her travels to east and southern Asia and her own life narrative. Hardy currently teaches design at the University of Wyoming in Laramie.
Hardy's "Ceramic Constructions" highlights her more recent work. Hardy has crafted small wall-mounted shrine-like ceramic pieces that house figurative elements. The images for these elements are inspired by her dreams. "My work is surreal and mystical in nature to represent the esoteric content of dreams and their uncanny similarities to waking life," explains Hardy. As a Buddhist, Hardy deals with the ephemeral nature of life and of existing "in the moment." Hardy achieves an intimacy in her work through its small scale and its story-telling quality.
The Eric Dean Gallery is located on the south end of the Fine Arts Center. Gallery hours are Monday through Friday from 9 a.m. to 5 p.m. and on Saturday from 10 a.m. to 2 p.m. The gallery is free and open to the public.
Portfolio of Leah Hardy's Work