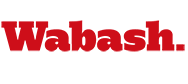 Fraternity Leaders: An Extraordinary Opportunity
by Jim Amidon

August 29, 2006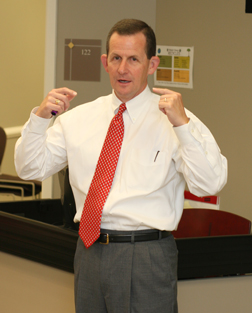 In what one international fraternity chief executive called "an extraordinary opportunity," Wabash College hosted a two-day colloquium that brought together college administrators and fraternity executives to discuss mutual challenges and opportunities.
Based on the assumption that international fraternity chief executives and college presidents share a common goal of educating men while developing them as leaders and responsible citizens, Wabash boldly invited the CEOs of the 10 fraternities who have chapters at Wabash to attend the event. Six CEOs came to campus to work with four college presidents and Wabash's dean of students' office to develop common ground.
"This is extraordinary for leaders of national fraternities to get together with college administrators to talk about the opportunities we have to collaborate to reach our common goals," said Bill Martin, the chief executive officer of Phi Gamma Delta International who moderated the discussions (pictured).
Attending the colloquium were Jim Russell from Delta Tau Delta, Shawn Collingsworth from Phi Kappa Psi, Kevin Mayeaux from Tau Kappa Epsilon, Bob Biggs from Phi Delta Theta, and Martin.
Wabash alumnus and trustee Ted Grossnickle also participated. Grossnickle brought the perspective of having served his fraternity, Lambda Chi Alpha, in a leadership capacity, while also having served as president at Franklin College.
"We're natural partners, natural allies," said Grossnickle. "The national fraternity CEOs are very interested in engaging in dialogue with college presidents to see if they're seeing the same things — the same challenges and opportunities."
Wabash's fraternity colloquium seems like a natural outgrowth for a college steeped in fraternity history. Yet there was consensus that Monday and Tuesday's gathering might have marked the first time senior administrators of colleges and national fraternities have come together focused entirely on positive outcomes. "If this is not unique, it's extraordinarily rare," said Grossnickle.
"Our challenge is to think about how we work together to develop young men to be the best version of themselves they can imagine," said Wabash Dean of Students Tom Bambrey. "That's a significant challenge, and I think fraternities and colleges can be partners in that pursuit."
Wabash, which has been home to national fraternities since the 1840s, realizes many of the aspects of the college's culture are similar to the mission and goals of national fraternities. The Gentleman's Rule was a big topic of conversation at the colloquium.
"I've learned more about the Gentleman's Rule, which is an approach to encouraging right behavior," said Fiji's Martin. The Gentleman's Rule is aspirational; it's set up as an ideal that men or people can aspire to, as opposed to setting boundaries, which can be limiting."
Wabash President Pat White found himself to be the rookie in the group of college and fraternity veterans. "It's become really clear (over the two days) that if we can improve the development of fraternity leaders, they can have a positive benefit to the college. Fraternities have a huge history of developing leadership in young men. At Wabash, that's our history. It's a completely natural partnership."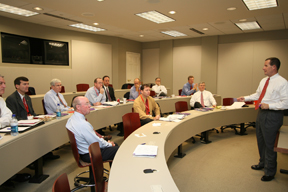 One of the goals of the colloquium was to have discourse on the ways in which college administrators and international fraternity leaders can achieve mutually beneficial goals. What Martin and the others hope to produce from the conversations is a "tool kit," which Martin describes as a handbook for college presidents. The handbook will include basic contact information, but also a thorough description of each fraternity's history, culture, mission, and goals.
"As we envision it, the handbook would be useful for a president to be able to talk with some knowledge about the mission and goals of the fraternities," said Martin. "That would show the students that the administration cares about helping the students achieve their individual goals.
"We'd like to come out of this with an outline for a notebook that would be transferable to any campus on which fraternities exist," said Martin.
"Wabash does a good job developing leaders," said Hanover College President Russell Nichols. "We came into this thinking, 'if it can be done at Wabash, perhaps we can make it transportable to other colleges.'"
There was overwhelming sentiment that the two-day discussion was productive and transferable to other institutions. "The discourse has been valuable and needs to keep going into the future for the benefit of our students," said President White.
Nichols, himself a Wabash alumnus, sees the benefits of the colloquium in two ways:
"We can expand the discourse both outwardly and inwardly," he said. "On the inside, we will look to Wabash alumni and student leadership to help work out the details about how best to achieve the mission of the fraternity and the college."
Wabash appears to be ahead of the curve in its partnerships with its undergraduate chapters, their alumni advisors, and international fraternity leadership.
First came the Campaign for Leadership's visionary Fraternity Partnership, a 10-year effort to involve alumni in the renovation of new construction of chapter houses on the Wabash campus. Additionally, the Dean of Students' office now sponsors a day-long training sessions geared for fraternity leadership and resident advisors. The Housing Education and Leadership Program gives undergraduates the opportunity to interact with college staff and administrators. The Deans' Office also facilitates twice-a-year meetings with chapter advisors of the 10 fraternities with houses on campus.
The conversation with college administrators and fraternity CEOs is yet another step in strengthening Wabash's Greek system.
"We'll be able to take some of what we've talked about to the alumni chapter advisors and make those relationships stronger," said Dean Bambrey. "Being in a room for two days with fraternity CEOs has been beneficial — we know these relationships will be helpful down the road as we address our challenges and pursue our mutually beneficial opportunities."