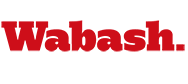 LEAD Program Brings Sophomores and Alumni Together
by Tom Runge

August 28, 2006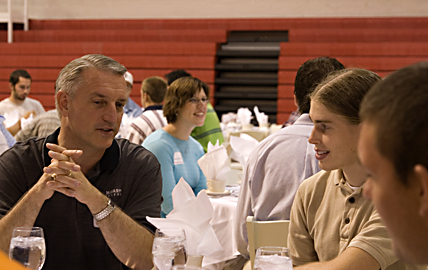 "Someone in this room will change your life…it happened to me and I know it will happen to you."
Kip Chase '03
Kip Chase '03, the keynote speaker for Wabash's initial LEAD (Linking Education and Alumni Development) program event of the school year, shared his stories about life as a student and alumnus with over 60 members of the Wabash Class of 2009 Sunday evening, August 27, 2006.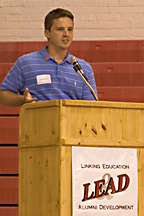 Kip explained that an alumnus is a contributor in the broadest meaning of the word – Kip explained that contributing means taking an active role in the Wabash community and putting forth the effort to make the community stronger and better in every way possible.
Many areas alumni joined the Class of 2009 for dinner and shared their perceptions of life as an alumnus.
Joe Klen '97, director of Annual Giving at Wabash, served as the evening's emcee. Campbell Robbins '09, a religion major from Indianapolis, offered the evening's invocation.
The LEAD program is an effort to inform Wabash students about the privileges and responsibilities of being a Wabash alumnus. The Welcome Back Dinner for sophomores is the first element of the year-long plan. It serves to welcome the sophomores back to campus as well as welcome them to the National Association of Wabash Men (NAWM). The NAWM is the alumni association of Wabash and is open to all College attendees completing two or more semesters.
The LEAD program is a joint effort between the offices of the Dean of Students, Schroeder Center for Career Development, Annual Fund, and Alumni and Parent Relations.
For more photos, click here.
Top photo: Trustee Ted Grossnickle '73 shares his thoughts on the roles and responsibilities of an alumnus
Photo: Keynote speaker Kip Chase '03 discusses his view of the roles of an alumnus