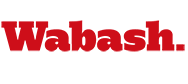 Wabash Announces Visiting Artists Series Season
by Karen Handley

August 24, 2006

Get directions to Wabash College Fine Arts Center

Wabash College is pleased to announce seven Visiting Artists Series events for the 2006-2007 year.

In 2006-2007, seating for Visiting Artists Series events will be by general admission, though free tickets are required for the programs

Tickets for Fall Semester events will be available Monday, August 28, 2006. Tickets for Spring Semester events will be available Monday, January 22, 2007.

Contact the Fine Arts Center Box Office by email at boxoffice@wabash.edu; phone: 765-361-6411; or by mail at Fine Arts Center Box Office, Wabash College, P.O. Box 352, Crawfordsville, IN 47933-0352. Box Office hours are Monday through Friday, 8:30 a.m. to 12 noon and 1:30 to 4 p.m. The box office will open 90 minutes before curtain time for Visiting Artists events. Tickets not claimed at the Box Office 10 minutes prior to curtain will be released to the general public.

Thursday, September 7, 2006
Diva Jazz Orchestra, 8 p.m., Salter Concert Hall, Fine Arts Center
Led by drummer Sherrie Maricle, Diva is an all-female jazz orchestra steeped in the history of jazz but infused with the progressive harmonies of today. Based in New York City, the group plays contemporary big band jazz composed and arranged by band members and some of the genre's most renowned writers. Diva has performed at top venues around the world, including the Kennedy Center for the Performing Arts, television's CBS Sunday Morning, and a sold-out concert at Carnegie Hall. "The band punches, kicks, and swings with a disciplined abandon and an unaffected joie de vivre."—The Jazz Times
October 18-19, 2006
La Espada de Madera: Don Quijote de la Mancha, 8 p.m. Experimental Theater, Fine Arts Center (In residence October 17-21)
La Espada de Madera (The Wooden Sword) is a prize-winning troupe of puppeteers and performers from Ecuador that has entertained adults and children at festivals in Latin America, Europe, and the United States. Founded in 1989 and dedicated to the magic of theater; the troupe will perform Don Quijote de la Mancha and work with Wabash students and faculty during their four-day residency at the College.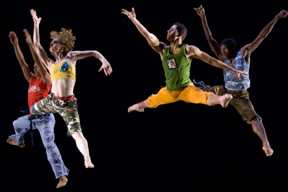 Thursday, November 9, 2006
Hubbard Street 2, 8 p.m. Ball Theater, Fine Arts Center
Hubbard Street 2 is a vibrant company of six dancers performing a repertoire that mirrors the variety and vitality of Hubbard Street Dance Chicago's main company. Led by Artistic Director Julie Nakagawa Bottcher, formerly featured dancer with Twyla Tharp Dance and the Cleveland Ballet, HS2's inspired and energetic young dancers perform a diverse repertoire of works by some of the nation's most promising choreographers.
Wednesday, November 15, 2006
Bachmann-Kilbonoff in Concert, 8 p.m. Salter Concert Hall, Fine Arts Center
Hailed by The New York Times as "a violinist of soul and patrician refinement," Maria Bachmann has rocketed to international prominence through her acclaimed recordings and performances. She was the top prizewinner of the Fritz Kreisler International Violin Competition in Vienna and has been selected by Newsday as an Outstanding Artist of the Year. An eminent proponent of contemporary music and a favored collaborator with the world's leading ensembles, Bachmann is joined on the Salter Concert Hall stage by pianist Jon Kilbonof, with whom she recorded the 1995 CD Kiss on Wood and 2005's Fratres.
Tuesday, February 27, 2007
Amarcord, 8 p.m. Salter Concert Hall, Fine Arts Center
Five former choristers from the famous St. Thomas Boys Choir in Leipzig have become continental Europe's finest male a cappella quintet. The blend of humor, charm, elegance, flawless intonation, rarely heard homogeneity, and unwavering vocal virtuosity have left audiences delighted since the ensemble's debut in 1992. Amarcord's versatility is suggested by the ensemble's recordings: Insalata a cappella—secular music through the ages; In adventu Domini—music for Advent and Christmas from Gregorian chant to Gospel: and its latest, And So It Goes, an album of popular and show tunes.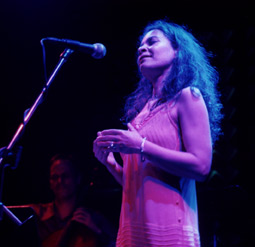 Friday, March 30, 2007
Lucia Pulido and Palenque, 8 p.m. Salter Concert Hall, Fine Arts Center
A pioneer of Nueva Cancion (New Song) in Colombia, Lucia Pulido moved to New York City in 1994 and continues to mine the musical traditions of her native country while incorporating elements of jazz, contemporary music, and Latin American song in her ongoing search for new musical possibilities. Pulido has one of the richest voices on the Latin American musical scene, and her musical explorations include collaborations with musicians from Argentina, Japan, and Brazil. In February 2006, she recorded with Palenque, a guitar, clarinet, and percussion ensemble that will perform with her on the Salter Concert Hall stage.
Thursday, April 5, 2007
Brigit Pegeen Kelly, poet, 8 p.m. Korb Classroom, Fine Arts Center
Brigit Pegeen Kelly has won some of the most prestigious awards available to poets, including the Lamont Award of the Academy of American Poets, a Pushcart Prize, and the Theodore Roethke Prize from Poetry Northwest. The author of The Orchard, Song, and To the Place of Trumpets, her work was chosen for volumes of The Best American Poetry. "Imagine a tapestry in which every color, itself resplendent, is couched next to another, equally brilliant hue. Such is Kelly's work—so gorgeous in its language, so vivid in its sonorousness."—Booklist
To read about Wabash College 2006-07 Theater Season click here
Photos:
Top Photo: Diva Jazz Orchestra, September 7
Middle Photo: Hubbard Street 2, November 9
Bottom Photo: Lucia Pulido, March 30