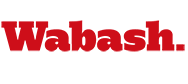 Bachelor's First Back to Campus Issue Publishes Thursday
by Nelson Barre '08

August 23, 2006

Thursday morning, the campus will receive the first "Back to Campus" issue in the history of the Bachelor. The staff came back a little over a week early to put out this product, and we are very proud of it. We hope you enjoy reading it.

There is something that is different about this issue, other than just being the first "Back to Campus" issue and being 32 pages! Besides the on-campus distribution, The Bachelor will be inserted into all 10,000 copies of the Crawfordsville Journal Review.

If you've read the Bachelor before, you would notice few times that we would have advertising. This time we have lots of advertising. The advertisements are beneficial to you. We hope you take advantage of them, because they are also helping to continue good relations with the community in general – and in turn you can get some bargains.

The Bachelor hopes to keep this good relationship and continue to build upon it. If all goes well, then there will be a continuing product of this caliber

For those interested in joining our crew, The Bachelor will host a callout meeting at 8 p.m., August 31. Our next regular issue of the Bachelor will be published Sept. 8 and continue weekly.

Hopefully this has been a good first impression for all of you with the new look of the Bachelor and also the nice savings granted by some of the ads. Welcome back to Wabash and enjoy the Bachelor.

Barre is the Editor of the Bachelor.

Homepage photo: Editor Barre looks over an early copy of the Back to Campus Bachelor.