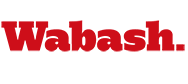 Wabash Alum New Voice of Indiana Pacers
by Jim Amidon

August 23, 2006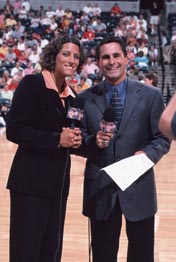 Wabash College alumnus Chris Denari '83 has been named the new play-by-play broadcaster for the Indiana Pacers basketball team. The veteran announcer replaces Al Albert, who has resigned to pursue other opportunities.
Denari will provide play-by-play for all Indiana Pacers' television broadcasts. In order to do so, he must step down from his announcing responsibilities with the Indiana Fever WNBA franchise and the Butler University men's basketball team.
Denari played basketball at Wabash and was a member of the 1982 National Championship team. A member of Sigma Chi and an English major while at Wabash, his career has included public relations work in Butler University's athletics department and the Midwestern Collegiate Conference. He is currently the sports director at Indianapolis Fox affiliate WXIN 59. Denari is also part of the Indianapolis Motor Speedway radio network and does post-game work for the Indianapolis Colts.
Denari has been the lead voice for the Indiana Fever WNBA franchise since its inception in 2000. In April 2004, the Indiana Sportswriters and Sportscasters Association named him as Indiana's 2003 Sports Broadcaster of the Year.
Breaking away from Butler University will be most difficult for the versatile sportscaster, who has served for the past 17 seasons as the voice of Bulldogs' men's basketball team. He has called all five of Butler's recent NCAA tournament appearances, including its trip to the 2003 Sweet Sixteen.
Photo - Stephanie McCarty and Chris Denari prepare for a stand-up segment prior to an Indiana Fever basketball game.