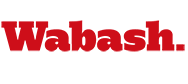 Class of 2010 Lends Muscle to Community Projects
by Howard W. Hewitt

August 22, 2006

Community service is nothing new for the 270 freshman joining the Wabash community. Most of the recently-graduated high school standouts incorporated serving their community into their high school activities.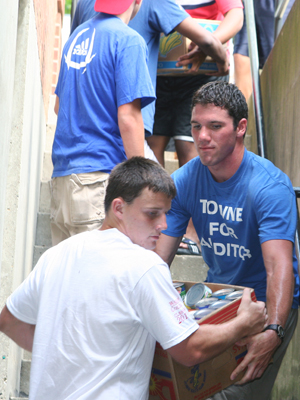 The freshman class spread out across Crawfordsville Monday, as is tradition, to assist 18 different organizations. Students could be found painting the iron fence around Lane Place. More young men were working at Lew Wallace study, landscaping at the 4-H Fairgrounds and Old Jail Museum, painting indoors at the Athena Center and many other service opportunities.
See photo album from day's work by clicking here.
Many of the freshman talked about community Christmas programs, food banks, school activities and retirement centers as focus of their community service during their high school years.
"This is a good way to get acquainted with the community and figure out where we're going to be living for the next four years," said Philip Towne, a freshman from Bluffton, Ind. "It helps us get the picture that we belong here and it's great to give a helping hand."
The hand was sure appreciated by the food bank volunteers.
"This is just tremendous help because it gets all of our food here at the Methodist Church," said coordinator Flora Wilson. "Most of our volunteers are retired people and unable to lift these heavy boxes."
Outside line the church's basement steps a line of freshmen handed the heavy boxes of canned goods from man to man and placed them on the pantry's shelves.
The freshman guys at the Nazarene Church just down the street had the chance to do a little destruction. They tore out an interior wall to make way for some remodeling. Mike Uhl '76 is the church's pastor.
"The last couple days have been kind of slow," said Bryce Shellman from Albion. "It's good to get out and do something. A lot of the other groups had easier service jobs but I think this is more fun."
A freshman rally with door prizes was Monday's night's highlight. The new class continues with orientation activities through Thursday's first day of classes.
In photos: In photo above: Philip Towne hands a box down the steps at the Methodist Church. On homepage: Daniel King, at left, prepares to hand a box of food off to the next man in the line of freshmen moving canned goods for the local food bank. On student page: Jasper Small, Arcadia, helps take out a wall at the Nazarene Church.