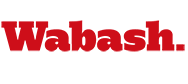 Volunteers Needed for College Mentors for Kids!
August 21, 2006

The 2004 US Census reported that only 19% of Indiana high school graduates hold a bachelor's degree or better. This number is startling, but no means impossible to improve. For over ten years College Mentors For Kids! has been working hard to make receiving a college education a possibility for the 81% of Indiana children living in undereducated families.

The program is present at nearly every college and university in the state of Indiana, and is currently working to transcend state lines in order to expand its influence. This year, however, will be the first time Montgomery County will feel the positive affects of such a wonderful program.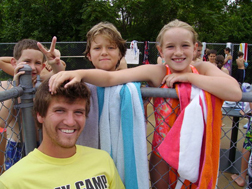 The primary goal of College Mentors is to introduce elementary students with no family connections to secondary education to college life and the opportunities it presents. For the second year, 10 first grade students from Hose Elementary School in Crawfordsville will come to Wabash each Thursday to participate in a curriculum revolving around community service, college life, and culture.
"The College Mentor for Kids! program is great for the Crawfordsville community because of the need for role models and mentors for youth, but what is equally exciting for me as a professor is that our students took the initiative and responsibility to bring the program to campus," said teacher education professor Michele Pittard. "It's inspiring to see young men with such a deep commitment to community service. And the fact that students like Chris Serak and Will Arvin are planning careers in education gives me much confidence for the future."
"Through exposure to these aspects of life at Wabash, we hope to influence young students to strive for more lofty life goals than perhaps are advocated by their life at home, while at the same time pushing students to succeed in the classroom," said Serak (pictured above right). "In 2004, elementary school students scored 10 percent higher that the school average on ISTEP tests, while 92% of these students reported a desire to attend college."
Beyond pushing for a more educated tomorrow, College Mentors stresses the importance of pursuing further education by the parents of enrolled students. The hope of the program is that by exposing children to college life, the parents may be inspired to seek a higher degree themselves.
"We are currently seeking the commitment of 10 men to act as mentors and potentially positions holder within the program," said Serak. "Mentors will have the opportunity to serve as a huge positive influence in the life of a child, and are expected to attend each session."
Wabash's chapter of College Mentors for Kids! will meet each Thursday from 4:00 to 6:00 p.m. Serak said that fall-sports athletes interested can become involved by pairing with other students.
To submit or obtain an application, contact Serak by clicking here. Or download application here.