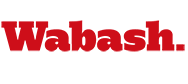 Freshman Class Arrives — 270 Strong!
by Jim Amidon

August 19, 2006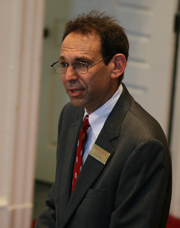 With brilliant beams of sunlight breaking through threatening clouds Saturday, 270 freshman students arrived at Wabash College to begin their liberal arts journey. Flanked by parents, siblings, uncles, and grandparents, the first year students join approximately 600 returning upperclassmen for the 2006-2007 school year.
The freshmen and their families worked through a range of registrations, receptions, open houses, and panels throughout the day. Just before saying goodbye to their families, the freshmen and their parents were introduced to their faculty advisors, who will guide them through the College's five-day orientation program. Classes begin Thursday.
Click here to see one photo album and here for a second set of photos.
The highlight of the rookies' first day on campus was the traditional ringing in ceremony in the College Chapel. President Pat White, in his second month as Wabash's 15th president, began his remarks by saying, "I take great pride in being part of your class, for as you know, this is the beginning of my first year at Wabash as well.
"But I feel, as I hope you do, that my entire life up to this moment has led me, drawn me, and guided me to this place at this time," said White, who took office on July 1. "As we get to know one another well, as we will, I invite you to join me in honoring the great traditions of Wabash and imagining anew the possibilities and promise before us. Let us together dream big dreams for Wabash."
Dean of Admissions Steven J. Klein served as master of ceremonies for the Ringing In ceremony, which also included remarks from alumnus Jon Pactor '71 and a performance by the College's Glee Club.
Klein took the opportunity to introduce the freshmen to each other, reeling off a long list of accolades and accomplishments the freshman class brings to the College.
Dean Klein explained that there are 37 legacies in the Class of 2010, men whose fathers, grandfathers, uncles, cousins, or brothers have attended Wabash. The average high school GPA of the class is 3.70 and 40 percent of the men graduated in the top 10 percent of their class. Twenty-eight were Indiana Boys State delegates and nine are Eagle Scouts. While the majority of the men hail from Indiana, 15 come from Chicago, 10 from Texas, five from California, and four from Mississippi. Sixteen freshmen come from other countries — the largest class in more than a decade — and four of them are Chinese.
He then went through some of the quirkier attributes of the class: One man is a master gardener, another a skilled pastry and dessert chef. One owns his own store while another is the proud owner of a 1980 Blue Bird school bus. The class includes a world class archer, strawberry farmer, and the Central Indiana Young Marine of the Year. Men in the Class of 2010 have served Amnesty International, Special Olympics, Habitat for Humanity, the American Red Cross, and Big Brothers-Big Sisters, to name only a few.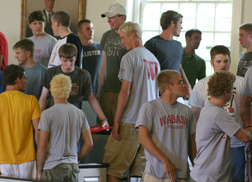 President White echoed Dean Klein's acknowledgement of the talents of the freshmen. After asking each man to stand up, he said, "I want to take a moment to introduce you to some of your greatest teachers. Look into the eyes of the men in your class, the men around you. These men will be your teachers... You will be amazed at how smart they are, at the same time they will be amazed at how much they are learning from you."
President White tried to calm the parents' anxieties as they begin to let go of their sons. "I ask you to trust your son," he said to the families assembled in the Chapel, "just as you have trusted his choice to come to Wabash. Trust this College, which since 1832 has provided men with an extraordinary education for life and has led men to the enactment of their best sense of themselves."
Constantly referring to the men of the Class of 2010 as his "brothers," White laid out his vision for his presidency and a challenge to the students, who will help him carry out the vision.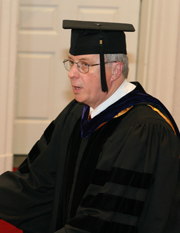 "As we dream together we recognize with the poet William Butler Yeats that 'In dreams begin responsibilities,'" said President White. "As we imagine the best we can be as individuals and as a College, we have the responsibility to bring our dreams to life."
Just prior to ringing in the Class of 2010 with the same hand bell used by Caleb Mills when calling the first Wabash students to class in the 1830s, President White, also Professor of English, looked to William Shakespeare for his parting comments to the freshmen:
"We do not know what awaits us as individuals, as a College, as a nation, or as members of many nations. I do know that we will be stronger, smarter, braver, and greater for our time together at Wabash. So I greet you with the words that Shakespeare's Henry V used to urge on his men at Agincourt: 'We few, we happy few, we band of brothers.'"
With those final words spoken, Dr. White lifted Caleb Mills' bell, and in his first official act as 15th president of Wabash College, rang in the Class of 2010 — his freshman classmates.