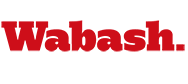 The Bachelor Teaming with Journal Review for Special Issue
by Wade Coggeshall

August 14, 2006

The Journal Review has been writing and printing a Wabash College back-to-campus special section every August for the past several years. This year the two sides are trying something different.

The Bachelor, Wabash's student-run newspaper, is creating a back-to-campus issue and the Journal Review is selling advertising for it. The special issue will be distributed on campus and in the Journal Review's press run on Aug. 24, the first day of class.

"Like any product, after a number of years it's good to have a little change," said Howard Hewitt, Wabash's Web editor, director of new media and Bachelor advisor. He started the back-to-campus issue when he was editor of the Journal Review. "We came up with the idea the Journal Review would not only print but also sell a back-to-campus product that would in essence be the first copy of the year of The Bachelor."

The Journal Review is giving a generous portion of the advertising sales to the college to help fund a stipend they give the students who work on The Bachelor.

"Being a liberal arts college, we don't teach journalism," Hewitt said. "The Bachelor is a total volunteer activity, like most every student activity that takes place here. At the end of the year, we award our editors and contributors a small cash stipend for their efforts."

Area businesses also will benefit from the partnership.

"Not only is it a welcome back, it's also an opportunity to sell advertising that's beneficial to the community in welcoming back 900 consumers who are here nine months out of the year," Hewitt said.

"Although the Journal Review and Wabash College have worked in partnership before, this year's special first issue of The Bachelor marks an expanded version and an opportunity for readers of the Journal Review to see a publication they might never before had the pleasure to read," said Randall Pribble, Journal Review publisher. "We appreciate our relationship with the college and with the student journalists of The Bachelor and its advisor, Howard Hewitt."

"We're really thrilled and tickled at the partnership," Hewitt said. "It's indicative of the type of 'town/gown' relationships we try to improve on every year."

Coggeshall is a reporter for the Journal Review.