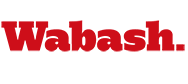 Little Giants Pull for Special Olympians
by Steve Charles

August 13, 2006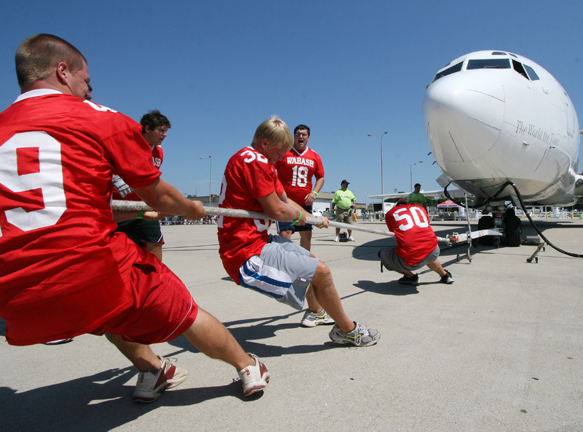 Fourteen members of the Wabash football team proved Little Giants once again as they raised more than $1,100 for the Special Olympics at Saturday's Fed Ex Plane Pull Challenge in Indianapolis.

The shorthanded Little Giants faced 37 teams of 20 pullers each, yet still managed to pull the 147,000-pound Boeing 727 across the finish line in 9.01 seconds, good enough for an eighth-place finish. (Photo album)

"We would have like to have finished higher," said Wabash senior Chris Greisl, who organized the Little Giant team. "But this event really isn't about the pull; it's about showing our support for Special Olympics athletes."

One of those athletes provided a high point of the Wabash effort: Ben Gregory, a Special Olympian from Crawfordsville, joined the Little Giants during the "lightest team" segment of the competition and proved the difference as the football players strained to move the 727 forward for a second time.

"Without Ben, I don't think we would have gotten it moving at all," Greisl said.

The football players weren't the only Wabash men represented at the Plane Pull. Phil Gutwein '96 pulled for the team from Baker and Daniels, the Indianapolis law firm where Gutwein and several other Wabash alumni work.

And junior Mark Ellis' parents, Joan and Mark Sr. of Indianapolis, showed up to root for the Little Giants.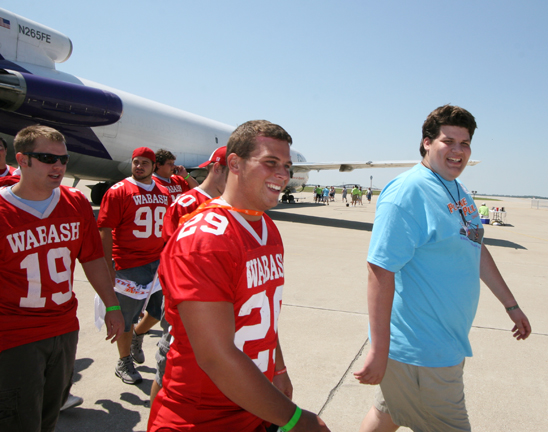 "We never miss a game," Joan Ellis said. "Being able to cheer on Mark's team is the best part of the program for us."

The Plane Pull competition's two-time defending champions, the Wabash team got plenty of attention during the event.

"These guys don't even bother to pull the plane anymore," the announcer quipped. "They just pick it up and move it."

"Where are all the other college football teams?" one volunteer asked as the students awaited their turn to pull. "We've been trying to get the other colleges and universities here for years, but Wabash is the only team that shows up."

2006 marks the fourth year that the Little Giants have participated in the Fed Ex Special Olympics fundraiser. In 2004, students also welcomed more than 420 athletes to the College's Allen Athletics and Recreation Center for the Indiana State Special Olympics Basketball Tournament.

Photo, top right: Little Giants put their backs into it during the "lightest team" competition.
Lower left: Wabash team organizer Chris Greisl and Crawfordsville Special Olympian Ben Gregory stride off the tarmac.