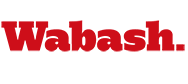 Wabash Students Attend National Conservative's Conference
by Brandon Stewart '08

August 8, 2006

Five members of The Wabash Commentary attended the 28th National Conservative Student Conference the week of Aug.1 in Washington D.C. hosted by the Young America's Foundation. According YAF's website, "The National Conservative Student Conference is the signature college conference of Young America's Foundation. The only event of its kind, the intensive six-day conference brings young people together with conservatism's biggest stars, and provides an entry point into the Conservative Movement."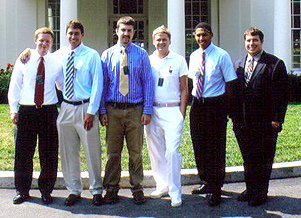 Appearing at the week-long event were a number of big names in the conservative movement including Robert Novak, Newt Gingrich, Iraqi General Georges Sada, Star Parker, Walter Williams, former Secretary of State General Alexander Haig, John Stossel, and many others. Read more about the conference here.
The staffers were Brandon Stewart '08, Robert VanKirk '07, Kevin McLaughlin '09, Josh Bellis '08, and Sean Clerget '09.
The highlight of the trip for the Wabash men was a special trip to the White House arranged independently of the conference. The five travelers, including fellow staff member Josh Harris, who has been interning in D.C. this summer, were able to be among a select group permitted to watch a presidential departure from the South Lawn from Marine One.
All-in-all, everyone seemed to enjoy their time in D.C. and the opportunity to hear from lecturers representing a variety of thoughts present in the conservative movement. The staffers left energized about the upcoming year and their ability to spread a conservative message to the Wabash campus.
"The trip was a unique opportunity to hear the opinions of some of the big players in national politics. I hope to bring some of those perspectives back to Wabash," said Sean Clerget '09, "Also, being my first trip to Washington, I also appreciated being able to see all the national monuments that the city has to offer."
In photos: Above, the students watched President Bush depart on Marine One. On home page: The group, Sean Clerget, Robert Van Kirk, Brandon Stewart, Josh Harris, Josh Bellis, and Kevin Travis McLaughlin, pose for a shot at the White House.