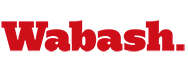 113th Monon Bell Classic to Air in High Definition
July 26, 2006

The 113th Monon Bell Classic, which Wabash will host on November 11, will be televised for a second time on the national high definition television network HDNet. HDNet also was the broadcast partner with Wabash and DePauw for the 2003 Monon Bell Classic, a 37-20 Wabash victory in Greencastle.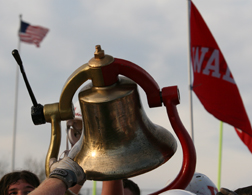 "We are incredibly excited to come back to Central Indiana this fall and bring the excitement of the Monon Bell to viewers across America," says Mark Cuban, president and co-founder of HDNet. "It's a great game between two fine schools and fans will be able to enjoy a state-of-the-art presentation that I'm sure they will enjoy."
Wabash leads the all-time rivalry series with DePauw by the slimmest of margins: 52-51 with nine ties since the rivalry began in 1890. This year's game marks the 75th time the 300-pound Monon Bell has served as the prize for the winning football team.
Click here to read up on last year's thrilling game.
"Now 112 games old, the Monon Bell Classic just gets better and better," said Wabash's Jim Amidon. "The last time the game was played in Crawfordsville, we set a single-game attendance record of 11,504. Of course, we're hoping to break that record this November, and HDNet's amazing high definition sound and picture quality will allow our alumni across the country to feel like they're right there in the stands, whether they're in Dallas or Miami."
"HDNet's sports offerings include some of America's elite college football rivalries, and the Monon game will air the weekend before the network televises Harvard-Yale," said DePauw spokesman Ken Owen. "Those who saw the 2003 telecast know what a terrific job HDNet does. Watching the game in high definition is like standing on the sidelines."
To receive the game on HDNet, viewers must have an HDTV and high-definition tuner box. Viewers must also subscribe to the high-definition package offered by their cable or satellite provider.
The Alumni and Parent Relations Office at Wabash is working together with DePauw's alumni staff to coordinate as many as 50 telecast parties across the country. Contact Mike Warren in the Alumni Office for more information about possible locations for this year's telecast parties.
"High definition television is an everyday reality; all of the major networks are now broadcasting sporting contests in HD and sports bars around the country have upgraded their equipment," added Amidon. "In 2003 there were some parts of the country unable to receive the HDNet signal; we're confident that won't be an issue this year."
Co-founded by Cuban and General Manager Philip Garvin, HDNet provides viewers with exciting and topical news, sports, music and entertainment programming. The 24-hour all-high definition network regularly broadcasts Dallas Mavericks games, and continues to celebrate elite sports rivalries. The HDNet networks are available on Adelphia, Bright House, Charter, DirecTV, DISH Network, Insight, Mediacom, Time Warner Cable and more than 40 NCTC cable affiliate companies.