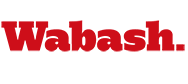 2006 Mitchum Crock - Full House
by Tom Runge

July 25, 2006

The 2006 version of the Mitchum Crock, the annual golf outing of the Indianapolis Association of Wabash Men, included the maximum number of golfers - 36 teams in all. When the smoke had cleared almost six hours later, Team Pippen - Pete '61, Janie, and David '91 - came away as the winners (low net).

The Crock was also the first time many participants had the opportunity to meet and hear from Wabash's 15th president, Dr. Pat White. Pat briefly talked after dinner and it was clear he enjoys being at Wabash. He said it already feels like home.

Low gross for the tournament was the team of David Reed '89, Tim Harris '91, Brian Chapman '89, Chris Sangalis '87. They were 17 under par!

Many thanks go out to the IAWM for sponsoring a great event. We'd like to especially thank David Waldman '93, the IAWM president, and Tim Oliver '91, the Crock committee chairman, as well as the remaining members of Tim's committee. The event would not be the great success it is without many alumni sponsors. Thanks as well to all those who were major sponsors or hole sponsors.

It was another great event!

For the photo album, click here.

Photo: Jeff Qualls '84 tees off. Note the sponsorship by Mark Lazar '81.