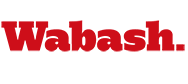 Wabash Summers Often Include Athletic Endeavors
by Howard W. Hewitt

July 17, 2006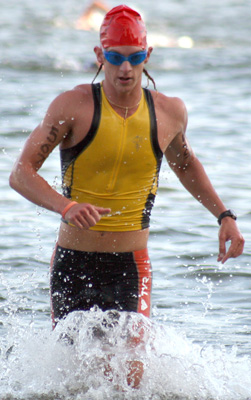 Muncie, Ind. – We celebrate students involved in business internships, summer immersion learning, and recently the incredible science-related summer internship opportunities, but many Wabash men also pursue other types of interests during summer break.
Josh Vaughan '08 spent July 15 swimming 1.2 miles, biking 56 miles then running a half marathon of 13 miles in the 27th annual Muncie Endurathon. And he did it in 90 degree heat and stifling humidity. It was the junior's first effort at a half triathlon though he had competed in some shorter events.
Vaughn had predicted he could do the swim in Prairie Creek Reservoir in about 35 minutes. He came out of the water in slightly less overtaking a number of swimmers in the group who started before his 19-24 age bracket. He then hopped onto his custom bicycle he had purchased earlier this year and started out on the 56-mile bike ride he had predicted would take him 2 hours and 30-45 minutes. He again came in on the fast side of his prediction looking strong.
The quick turnaround in the transition area is fascinating for anyone who's never seen such an event. The competitors start getting out of their shoes – while on the bike – as they near the stopping point. They must run their bike to their transition spot and get out of bike cleats and into running shoes.
Josh took off looking strong. But like many of the competitors the scorching sun took its toll during the 13 mile run. While groups of athletes came out of the water and off the bike in groups, the distance between competitors at the finished increased substantially.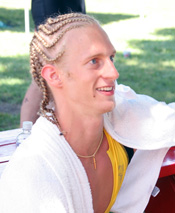 Instead of the 1:30 to 1:45 Josh had hoped to complete the half marathon in, he came in well over two hours. But completing his first half triathlon was about the learning experience. "I didn't think I would bonk on the run but I guess I did," he said while cooling off afterwards.
Incredibly many of the top men and women were in their 30s and 40s. The man with the fastest time was a 24-year-old Ball State student Zach Ruble. But Ruble was penalized after the race for storing his bicycle in a wrong spot and was docked 4 minutes on his overall time. Ruble completed all three phases of the race in 4-hours and 9-minues. The 4-minute penalty dropped him to second place behind defending champion Blake Becker of Boulder, Colorado. In the women's division the top four athletes were all over 40 years old.
The physical challenge and level of exhaustion of completing more than 70 miles under your own power is daunting. Nearly 700 athletes competed at the reservoir just east of Muncie. Vaughan was a Little Giant place kicker during his freshman and sophomore years on campus. He plans to run cross country this fall.
Editors Note: Look for photo albums and a student profile of Josh's effort and his thoughts about the day on the Wabash website later this summer.