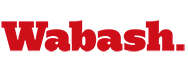 Olympian Teaches Mat Moves at Wabash Wrestling Camp
by Brent Harris

July 13, 2006

Now he can focus on Beijing.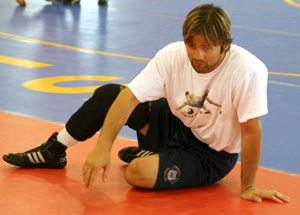 "I've had my sights set on the 2008 Olympics from the moment I stepped off the mat in Athens," Fresno State great and Olympics medal winner Stephen Abas said Tuesday afternoon.
The 28-year-old Abas had just stepped off a mat at the Knowling Fieldhouse after spending four hours working with 40 campers at the Wabash Summer Wrestling Camp.
Abas, who stands 5-foot-6 and weighs 121 pounds, was invited to participate in the camp by his former college coach, Kevin Lake. Lake also served as an instructor at the camp.
Working with youngsters from seven years old to high school age sparked memories for Abas, who won a freestyle silver medal in the 2004 Athens Olympics.
He recalled the days when he was their age:
"I grew up around wrestling. I'm the youngest of seven kids. My older brothers wrestled. It's a sport I've known all my life."
Attired in shorts and a t-shirt, Abas said working with the youngsters was an "opportunity to be that older brother to someone else.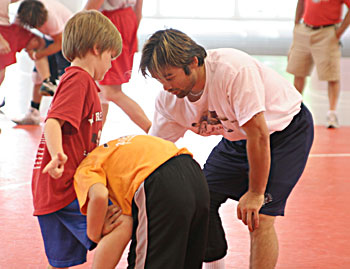 "I get to pass along my love of the sport to someone who may become an Olympian in another 10 years. I know some of the things I threw at them today were fairly advanced and very technical moves. The kids paid attention and really worked hard to pick up a lot of the moves."
Youngsters weren't the only people who benefited from Abas' teaching. The advanced moves he used as an Olympian and as a three-time NCAA national champion caught the attention of adults, too.
"It's great for the campers, and even for us as coaches, to pick up moves we might never see in a regular match," Wabash head wrestling coach Brian Anderson said. "Some of the techniques Stephen taught us are on the cutting edge of wrestling.
"To have contact with an athlete of Stephen's abilities is amazing. He works so well with high school students, then transfers that teaching ability in his work with the younger students."
Now Abas will go to work for himself, hoping to do even better in Beijing in 2008 than he did two years ago in Athens.
In Greece he defeated 2003 World silver medalist Ghenadie Tulvea from Modova and Cuba's Roberto Montero, the 2002 World champion.
It's no wonder, then, that Abas was named to the NCAA and National Wrestling Coaches Association 75th Anniversary team as one of best in the history of the sport.
But Abas has unfinished business.
"I feel as if I've worked hard to this point, and will continue to work toward earning the gold meal in Beijing," he said. "I've done all of the preliminary work. Now I just have to go out and get it."

Photos: (top left) Stephen Abas watches as the campers practice one of the new wrestling techniques.
(Middle right) Abas works with two of the younger members of the wrestling camp.
(Sports main page) Wabash wrestler Garrett Pino, an instructor at the camp, and Abas show a takedown move to the campers.