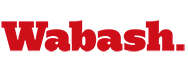 Journal Review: White Credits Staff for Smooth Transition
by Wade Coggeshall

July 12, 2006

It's been such a whirlwind week for new Wabash College President Patrick White that he's barely had time to stop and savor his new home.

"I was walking on campus with (Gary) Phillips (Wabash's new dean) after he arrived," White said on Tuesday. "I stopped in the middle of the mall and said, 'Just look at this place! Isn't this exciting?' So we're all pretty pumped."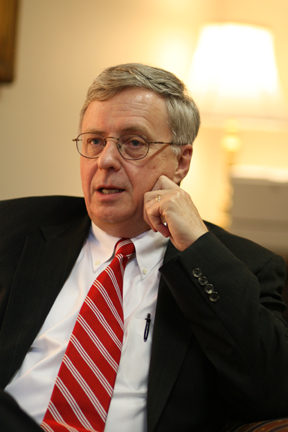 White, Ph.D., officially started work on July 1 as the 15th president in Wabash College history. He'll be inaugurated in January.
A native of Dixon, Ill., White did his undergraduate studies at the University of Chicago and earned his master's degree and Ph.D. in English and American literature from the University of Iowa. Prior to coming to Wabash, he spent the past 18 years as vice president and dean of faculty at St. Mary's College, Notre Dame, which, ironically enough, is an all-women's college.
White credits senior officers Tom Bambrey, Joe Emmick and Steve Klein — as well as other faculty members — for making the presidential transition go smoothly.
"They've done such a good job of taking on new things I need to know, and also giving me the history," he said. "Because there's so much that happens — in any good administration — almost automatically or without an awful lot of discussion because people get to know each other really well. So they're having to go back and explain a lot of things they've done without a lot of discussion."
Outgoing president Andy Ford and his wife Anne also prepared White for his new role.
"He would advise me of what was coming up, help me understand a particular problem or issue or decision I had to make," White said. "He was also very clear about the ways in which he was leaving certain decisions for me, and preparing the ground for my coming on board. He did a great job."
White enters at a time of prosperity and change at Wabash College. Enrollment is strong and institutions such as the Center of Inquiry in the Liberal Arts and the Wabash Center for Teaching and Learning in Religion and Theology continue to excel on the national stage. At the same time, other new faces are taking over leadership positions. Dena Frantz starts as Wabash Center director on Jan. 1, and Tim Lake will lead the Malcolm X Institute. Also Larry Griffith has been named the college's chief financial officer and treasurer.
One aspect of Wabash that hasn't escaped White's notice is the sheer enthusiasm shared by faculty and students, even alumni.
"I am continually impressed and pleased with how proud Wabash students, alumni, faculty and staff are of the college," he said. "I'd run into alumni at South Bend, and they'd want to grab me by the lapels and tell me how wonderful their college was. They would tell me this college transformed their lives. It was the most important factor in who they are. That is a huge responsibility — to help everybody here continue that legacy of being a place where young men have their lives so incredibly influenced that they're forever changed by their experience."
White also talked about the continued importance of the town/gown relationship between Crawfordsville and Wabash College. He cited the college's Business Immersion Program, where students get entrepreneurial experience working with local businesses or civic organizations, as an example of both sides working in tandem for the betterment of all involved.
"It's not an accident that Wabash is in a small town," White said. "Many brilliant liberal arts colleges are in small communities. It should part of the attraction and part of the excellence at Wabash — to be related to Crawfordsville. The long history of culture and learning in the Athens of the Midwest — that kind of aspect is something we need to remind ourselves of and move forward."

Coggeshall is a reporter for the Crawfordsville Journal Review.