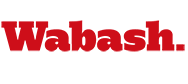 The Paper: White Learning His Way Around Wabash College
by Barry Lewis

July 12, 2006

So what does a new college president get to do at the end of his first week in office?

Go to school, of course.

Dr. Patrick White, the 15th and newest president at Wabash College, is preparing to go back to school Friday as he begins a five-day "Baby President School," at Harvard University.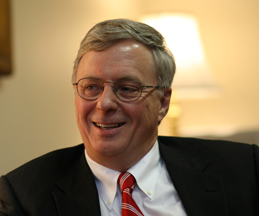 "It's a school where 30 of us will get together and learn all about becoming a new college president," White said July 11. "The lectures and discussions will be great, but what I hear from those who have attended this school before, it's a chance to meet with others who will be going through the same things you are at the same time. Some lifelong relationships can be formed and I am looking forward to it."
The first week on the job has been a busy one for White, who was elected the college's 15th president in January.
Trying to get settled in has been a full-time task.
White is not the only member of the administrative team at Wabash who will be new when school starts. He is joined by a new Dean of the College, Dr. Gary Phillips, and a new Chief Financial Officer, Larry Griffith. That means half of the college's administrative team will be new this year.
"I would be more scared if all six of us were new," White said. "Actually, because of the way the college handled all the hiring, it's not that scary. I am very excited about my administrative staff and I think we will all make an excellent team."
White said the transition was smooth thanks to the efforts of former President Andrew Ford.
"I have been involved with a number of presidential transitions, none as the president, and they have not all been smooth," White said. "I have seen some instances where the outgoing president and the incoming president hardly spoke a word. I could not have asked for a more gracious experience than the one I had with Andy Ford. We had weekly conversations and he brought me in on the new hires. He didn't have to, but he did and I was able to talk in depth with the candidates one-on-one and was allowed to be part of the process. That was not only huge for me, but for the candidates as well. They wanted to know a little about me and I wanted to know about them. The process was as smooth as I have ever been involved with. I feel like I had a six-month apprenticeship."
White has been spent his past week trying to absorb as much as he could about the college, its traditions and its men.
"I thought I had done my homework, but I just keep learning more and more and the more I see and hear the more I am proud to be part of this great institution," he said.
One instance while he was being interviewed for the president's position continues to stand out in White's memory and he continues to tell everyone he can that this incident exemplifies the men at Wabash College.
"I attended a basketball game and it was the post-season tournament," White recalled. "As I walked in I saw a line of men with letters which spelled out 'Wabash Always Fights' on their chests. As the game wore on it was obvious that Wabash was going to lose and the same young men turned around and the message read 'Thank You Seniors.' Everyone expected the 'Wabash Always Fights' but the 'Thank You Seniors' shows you the special bond the young men here develop for the college and one another. Witnessing that act made me want to be a part of the college."
White said following in the footsteps on someone like Ford has its good points and its bad points.
"The bad thing is you are following a great president," White said. "The good thing is Wabash is doing just fine and I don't have an agenda of items that need fixed."
White is looking forward to many things during his tenure, one is to help bring the community and the college together.
"The college has a distinctive purpose," he said. "It's no accident that Wabash College is in Crawfordsville. The college should be a source of pride for the community and the community is a source of benefit and enrichment to the college. The two have similar goals in some ways. Wabash does not want to become a college of 20,000 students and I doubt if Crawfordsville wants to become a thriving metropolis of 200,000. Both have a long tradition and reasons to be proud. Wabash and this community have been able to produce excellence in alumni and citizens at a rate far disproportionate to their size."
White is looking forward to the arrival of more students on campus. He has already met some of the students who are spending the summer on campus working or doing research and all have made him feel more than welcome.
"The men of Wabash have been most gracious to the new kid on the block," White said. "It's hard to think of myself, at age 57, as the new kid but I am. I am really looking forward to bringing in my first class of Wabash men. I may be more excited that they will be."
White won't have too long to wait. The first day of classes will be Aug. 24. He will ring in his first freshman class August 19 with Caleb Mills' school bell - a time-honored Wabash tradition.

Lewis is Community Editor for The Paper of Montgomery County.