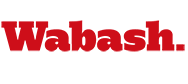 OLAB Students Arrive at Wabash
by Jim Amidon

July 10, 2006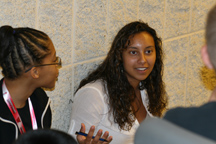 Almost 60 rising high school seniors arrived on the Wabash campus Sunday afternoon as participants in the 2006 Opportunities to Learn About Business program.
OLAB, as the program is known by those involved, is a week-long, intense immersion into the world of business — from the stock market to product development, and from labor negotiations to advertising.
It is, perhaps, the most unique program ever devised at Wabash, and I believe it's one of the most innovative summer programs for high school students anywhere in the country. OLAB really is that good.
And the program has almost died several times in the last decade.
Each of the students participating, boys and girls, come to Wabash not knowing what to expect or what will happen to them. All they know is that they were accepted into a competitive summer business program and awarded a scholarship worth about $1000 to attend OLAB free of charge.
Over the years, Wabash has partnered with organizations like Junior Achievement and the Indiana Chamber of Commerce to fund the nearly $60,000 budget. As times have changed, so too have the sponsors. Every year a major sponsor is lost, there is the very real threat that OLAB's four-decade history will end.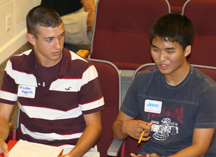 There has never been a thought of charging for the program; the scholarships are critical to the program's success because the students come from every possible socio-economic background.
Fortunately, local, regional, and state organizations — and individuals — have seen enormous value in OLAB and continually step forward to keep the program thriving. And thanks to their generosity, several thousand young people have left Crawfordsville at the conclusion of OLAB with skills, experiences, and memories to last a lifetime.
OLAB is indebted to all of its sponsors, especially the John B. Goodrich Charitable Trust, an ongoing financial sponsor and partner for years. The program is also blessed to have local sponsors like the Kiwanis Club of Crawfordsville and MainSource Bank of Crawfordsville, who make scholarships for OLAB students possible. The Benjamin A. Rogge Fund at Wabash College is also a significant, local sponsor.
Why is it important for OLAB to continue for generations to come? Because by the end of the week-long program, each and every "graduate" will tell you that it was one of the most remarkable experiences of their lives.
The students come from all over the state and even from as far as Oklahoma and Iowa. They're thrust into small companies, hammered with lectures and workshops, then develop and market a "product" to sell on the open market.
OLAB is essentially a semester's worth of business courses folded into a single week!
On the surface, OLAB may not sound like a life-altering experience. But the intense 16-hour days, camaraderie, competition, innovative thinking, and social life combine to make it more than any summer camp you can imagine.
Among this year's students are five high school seniors from Montgomery County: Nick Barreto and Morgan Busch from Crawfordsville; Jake German and Jacob Surface from North Montgomery; and Kali Harshbarger from Southmont.
Bump into any one of them a week from now and ask them about their time at OLAB. They'll probably tell you that they made great friendships, learned a lot, have too many memories to count, and were totally exhausted when the week came to an end.
Those collective experiences for 60 high school seniors each year are made possible because of the generosity of the program's sponsors. And though very few OLAB students enroll at Wabash a year after the program, the College is committed to providing the resources and facilities to keep OLAB going year after year.
OLAB is pleased to have the D.J. Angus-Scientech Foundation, Carmel Rotary Club, James Dinkins family, Eugene and Marilyn Glick Foundation Corporation, Indiana Sports Corporation, and JPMorgan Chase Bank as the financial backbone of the program.
If you, your club, or your business is interested in learning more about OLAB, contact Marilyn Smith in the Wabash Advancement Office at 361-6063.
After all, OLAB really is about changing lives.