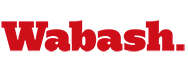 Alumni Chapel Sing, Kendall '66 Highlight Saturday Bash
by Howard W. Hewitt

June 3, 2006

The Alumni Chapel Sing brought out old friends, loud voices, and a bit of showmanship in the more than 300 Wabash College graduates attending Big Bash '06.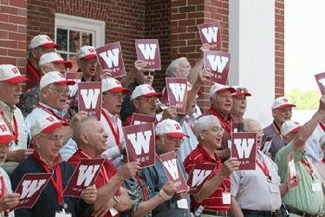 Always one of the weekend's big highlights, the reunion classes broke out custom t-shirts, signs, and even a police escort to impress the Alumni Chapel Sing judges. In many ways, it was much like the annual fall tradition when Wabash students learn "Old Wabash." (See photo album here. Second album here.)
As a matter of fact, the class of '91 even broke into a shoving match mid-way through the first verse! But showmanship honors had to go to the Class of 1966. The Wabash men of '66 had their own homecoming parade before taking the Chapel steps. They were led by a police escort, a vintage Wabash red car, golf cart with Wabash flags flying, and a good dozen class members jogging behind. The entourage started at the end of the mall near Detchon and paraded up in front of Lilly Library to the Chapel steps.
All alumni returning for Big Bash got together after lunch for Reunion Class Photos.
The afternoon agenda included colloquiums dealing with topics ranging from Washington D.C. to wine tasting.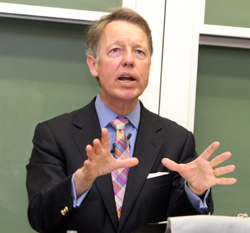 David Kendall '66 who is perhaps best known as President Clinton's personal attorney shared stories and memories from 40 years in Washington. He joked about the topic that has brought him the most notoriety.
"My wife said don't talk about impeachment today. And I said well I'm not going to talk a lot about impeachment," Kendall said to laughter.
"That was another kind of Congressional magic moment . I did write a Law Review article a few years entitled "Constitutional Vandalism," which summarized my view of what the House of Representatives role had been in those proceedings.
"The amazing thing was that the House Republicans never did vote for censure. Censure would have been not impeachment, but censure. It would have been legally debatable what the impact was, but that would have been unanimous and it would have been, I think, considerably more damaging to the President than being impeached and not convicted."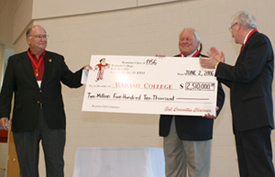 Saturday night the classes break off for their individual class dinners. Sunday morning wraps up the big weekend with church services and a Big Bash Awards Brunch.
The weekend got off to a huge start with a full day of activities. The Friday highlight was the evening Big Bash Banquet when 38 members of the class of 1956 received their reunion medallions from President Andy Ford.
The Class then presented Ford the class 50th reunion check in the amount of $2.51 million.
This is the third year Wabash has celebrated class reunions all on one weekend.